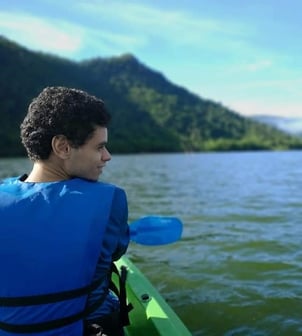 We are excited to announce that the first of two 2021 FlowCam student grant categories has been awarded to Zabdiel Roldan Ayala, a graduate student studying phytoplankton at Queens College's School of Earth and Environmental Sciences.
The FlowCam Aquatic Research Equipment & Travel Grant is awarded to two recipients: a graduate level researcher and an undergraduate faculty member to enrich a particular course or to support a student doing independent research. The winners each receive a FlowCam to use for up to 4 months, plus remote training, technical support, software licenses, and funding to present at a major scientific conference.
With the support of his advisor, Dianne Greenfield, Roldan Ayala plans to use the FlowCam 8100 to observe and record phytoplankton community trends in Long Island Sound. The questions he seeks to answer include:
"To what extent do spatial and temporal trends in Long Island Sound (LIS) phytoplankton community composition differ between subsurface and sub chlorophyll maximum depths?

Using FlowCam-generated cell biovolume data as a proxy for carbon content, which dinoflagellate genera contributes most to overall LIS phytoplankton biomass?

How do cell enumeration data of the saxitoxin-producing dinoflagellate Alexandrium catenella, a common LIS harmful algal bloom (HAB) species, compare between the FlowCam 8100 and the rRNA-based approach sandwich hybridization assay (SHA)?"
The combined effects of urban sewer runoff and increasing temperatures are likely contributors to increased problems with harmful algae in Long Island Sound. These changes in phytoplankton communities are important to understand in our battle with climate change and Ayala's research will contribute to a greater understanding of the communities.
According to Roldan Ayala's grant proposal, "The FlowCam 8100 offers a unique opportunity to help resolve... knowledge gaps because it can calculate individual cell biovolume, and when combined with its image recognition software this not only describes the spatial dynamics of LIS phytoplankton, but also how much each taxon contributes to total biomass. Moreover, by calibrating/optimizing the FlowCam to detect HAB species, it can act as an early warning tool for toxic blooms as past studies showed that it effectively detects several HAB phytoplankton species (Buskey & Hyatt 2006), including A. catenella (Cosgrove et al., 2014)."