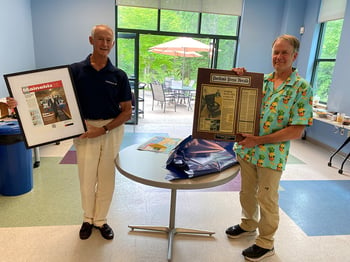 Last Friday our team assembled at headquarters for the first time in over a year thanks to the COVID-19 vaccine rollout. We gathered to wish good luck and a happy retirement to our founder, Chris Sieracki, and our long time President and CEO, Kent Peterson.
Pictured right: Kent & Chris with retirement gifts.
Originally invented at Bigelow Laboratory for Ocean Sciences in 1996 by a team led by Mike Sieracki (Chris Sieracki's cousin) and Charlie Yensch, the FlowCam was the world's first imaging flow cytometer. Chris says, "the FlowCam revolutionized the tedious and slow process of manual examination of phytoplankton via microscope by providing a semi-automated method to rapidly count, measure, and analyze individual cells and particles in a fluid sample using digital images."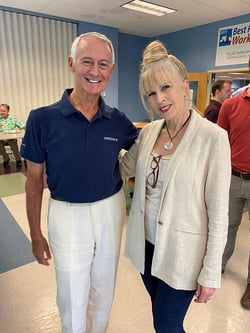 In 2002, after the FlowCam's initial success, Kent Peterson joined forces with Chris as CEO to lead sales efforts and market expansion with the full-blown commercialization of the FlowCam. It quickly became the go-to instrument for phytoplankton research because of its ease of use and image clarity. It wasn't long until it became evident that the FlowCam could solve problems and simplify particle characterization requirements across multiple industries and applications. Pictured left: Kent and Kandace Wagner, HR Director
"The technology behind flow imaging microscopy was light years ahead of the volumetric techniques being used to characterize particles at the time (and still today)" says Kent Peterson referring to Coulter counters, light obscuration, and laser diffraction technologies.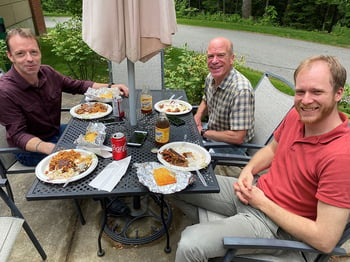 For 20 years, we have experienced growth under the leadership of these two men. In early 2020 the company was sold to Yokogawa Electric Company of Japan, with a promise of greater still potential for sustained growth. Kent stayed on for over a year to smooth the transition and ensure that the culture and commitment to employees remained a priority at our headquarters here in Scarborough, Maine. Pictured right: Shawn Barden, Harry Nelson, and Chris Mills enjoy a BBQ lunch at the goodbye party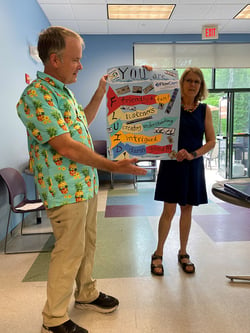 Kent also recently welcomed his successor, Ross Bryant, as the new President and CEO of Yokogawa Fluid Imaging Technologies. Ross comes to us with a rich background in life sciences, biopharmaceuticals, nanoparticle counting, and fluid analysis, from a variety of locations around the world, while leading diverse teams. He most recently worked for Wyatt Technology in Santa Barbara, California, where he was the VP of Global Sales, Marketing and Customer Service. Pictured left: Chris and Margo present their poster honoring FlowCam team
Ross's vision for the FlowCam and our team of motivated scientists and professionals will bring great things for our company, and we are excited to have him at the helm. He will oversee the continued integration of the FlowCam into the Yokogawa family of products, and keep our company blazing forward as we have always done in the fields of biopharmaceutical analysis and aquatic research.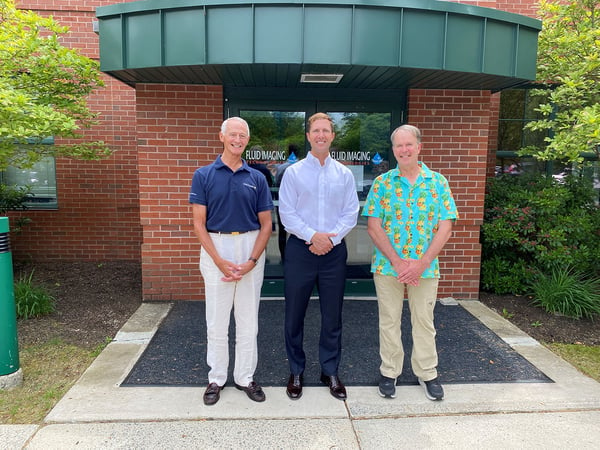 Pictured above, from left to right: Kent Peterson, Ross Bryant, Chris Sieracki