Harmful algal blooms can have a detrimental effect on the environment and on human and animal health. As a result of climate change, water utilities are experiencing these events with increasing frequency. Historically, many water monitoring agencies have not had a plan in place to proactively monitor for cyanobacteria, but rather found themselves reacting to the effects of a bloom after the fact.
Last month, the US EPA released a report that addresses concerns within the agency about the lack of a cohesive, agency-wide plan to monitor freshwater bodies for harmful algal blooms (HABs):
"The EPA does not have an agencywide strategy for addressing HABs, despite Congress appointing the EPA administrator as the leader for federal actions focused on reducing, mitigating, and controlling freshwater HABs... By creating an agencywide HAB strategy that addresses these planning areas and issues, the EPA can improve its nationwide ability to reduce HABs and their impacts on human health and the environment"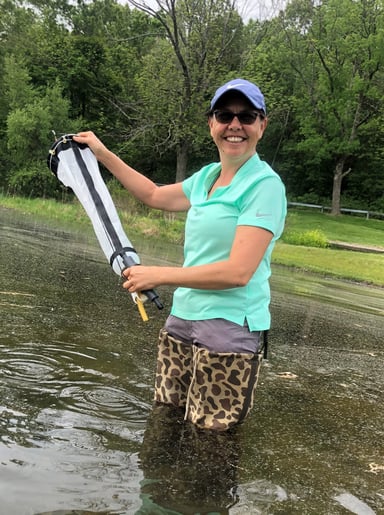 Pictured above: WCMC volunteer
using a plankton net to collect samples
for FlowCam Cyano analysis
In one example in the Northeastern US, the Massachusetts Department of Public Health provides cyanobacteria threshold guidelines in recreational and drinking water, but the EPA does not recommend a standard for how to test for the presence of these cyanobacteria, or guidance on how to prevent blooms. Due to this gap in regulations, citizen groups like Massachusetts' Worcester Cyanobacteria Monitoring Collaborative (WCMC) are currently picking up the slack when it comes to monitoring recreational water bodies.
In 2017, Jacquelyn Burmeister, together with several other local watershed associations, helped organize this collaborative that has since recruited dozens of volunteers to help expand cyanobacteria monitoring in the area's recreational waters using standard compound microscopes. This past Spring, the City of Worcester's Water Department made an investment in the program by purchasing a FlowCam Cyano instrument to aid in these monitoring efforts. They are interested in learning more about the diversity of algae and cyanobacteria, cyanobacteria concentration as it relates to public health, and general water quality. FlowCam will allow them to gather data more quickly and more cost-effectively.
Earlier this month Jacquelyn participated in advanced FlowCam Cyano training and plans to pass her training on WCMC's FlowCam along to her volunteers. The group will integrate FlowCam analysis into their monitoring strategy by collecting counts and concentrations of targeted cyanobacteria that might contribute to closure of one of the Worcester area lakes or ponds. FlowCam Cyano makes it easy to target specific cyanobacteria by allowing Jacquelyn's team to use historic data to create classification templates to automate the categorization of different phytoplankton taxa.
The WCMC's current goal is to establish an efficient and cost-effective monitoring method using FlowCam Cyano that is officially recognized as valid by the Massachusetts Department of Health.
Learn more about how the Cyanobacteria Monitoring Collaborative got started in our previous blog post.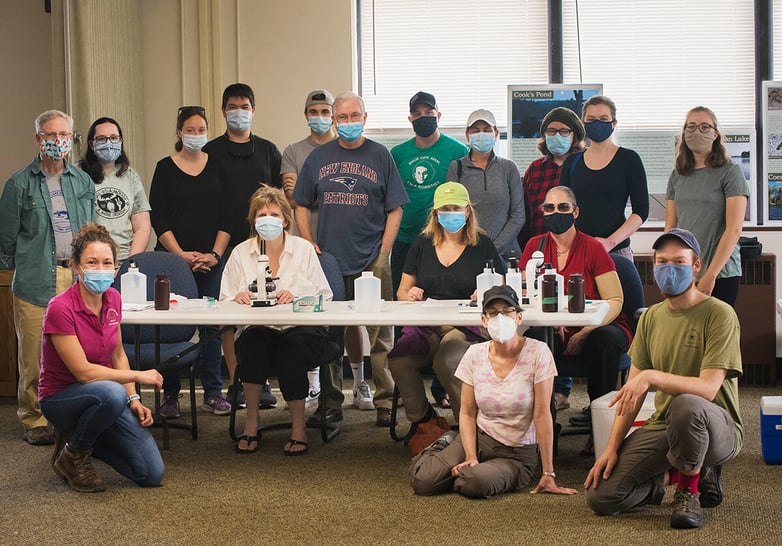 Pictured above: WCMC team, 2021