People often ask us, "What is the FlowCam?" and we answer with one of the following:
an imaging flow cytometer
an imaging particle analyzer
a really cool microscope
the best thing since sliced bread
But really it's all of those things. The FlowCam is a flow imaging microscope that captures high-resolution digital images of nano- and microscopic particles suspended in a fluid stream.
From each particle image, 40+ physical parameters are calculated and can be analysed using our VisualSpreadsheet software.
The FlowCam 8000 series is comprised of multi-objective flow imaging microscopes capable of imaging particles 2 µm to 30 µm. The FlowCam 8400 is equipped with a laser for fluorescent cell analysis.
The first FlowCam was built back in 1998 by a group of scientists from Bigelow Laboratories for Ocean Sciences hankering for something that could easily and quickly perform phytoplankton analysis. Prior to the FlowCam, plankton analysis was primarily conducted using traditional microscopy (read: time and labor intensive).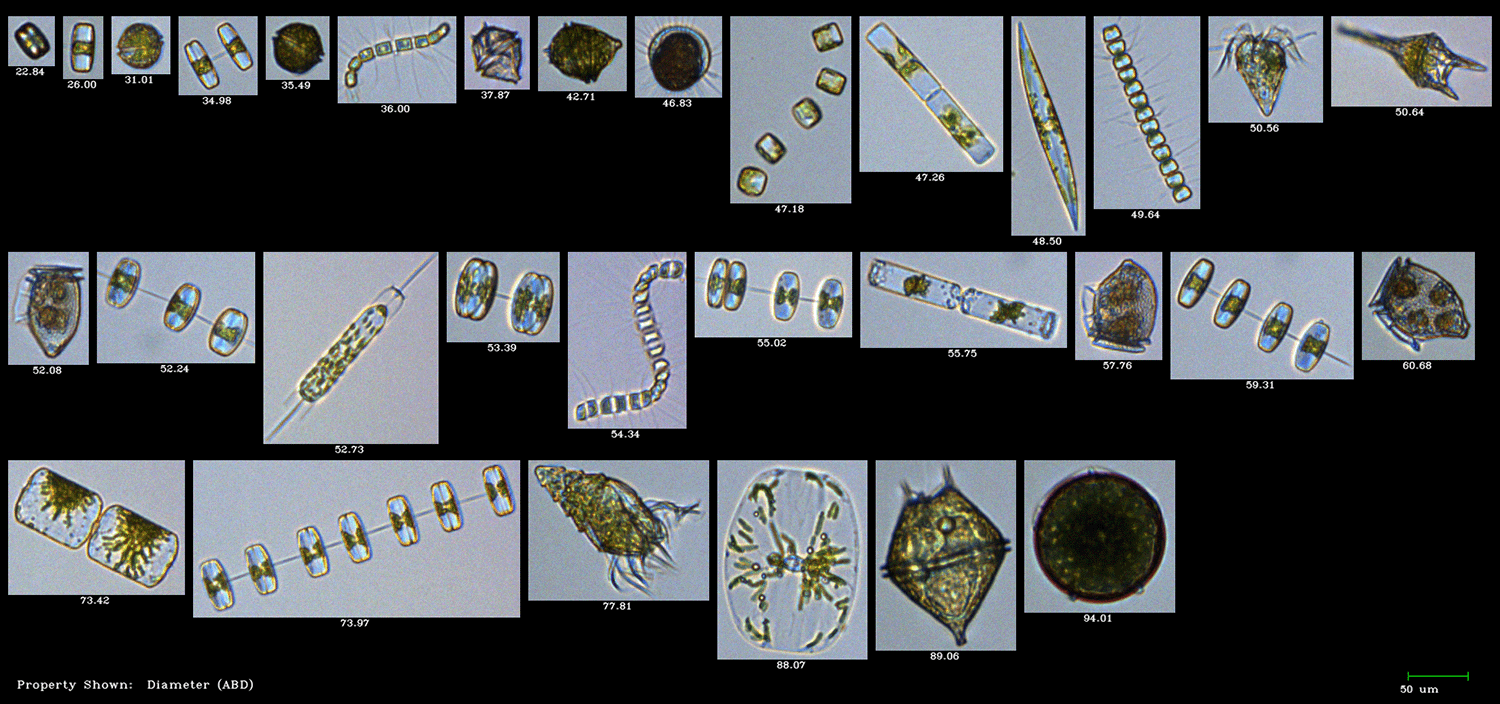 Spring bloom plankton community from the Gulf of Maine, as imaged by the FlowCam at 10X.
Since the original prototype was developed in 1998, the FlowCam has developed (through many iterations) into what is currently a product line featuring four different models built for different applications. Today, over 500 FlowCams are used worldwide, helping oceanographic and freshwater researchers quickly enumerate, measure, characterize, classify, and identify microscopic aquatic organisms.
In 2008, Fluid Imaging Technologies launched it's first FlowCams into the biopharmaceutical market. It turns out that the same FlowCam technology that successfully characterized microscopic aquatic organisms for 15+ years also provides accurate characterization of proteins and other subvisible particles in biologics, biosimilars, vaccines, and other parenteral drugs. So much so that the FlowCam is trusted by the FDA to evaluate particle profiles of recalled drugs.
The FlowCam is used for formulation development, process troubleshooting, and QA/QC testing. The imaging capabilities of the FlowCam enables protein scientists to see the particles and visually verify their identification.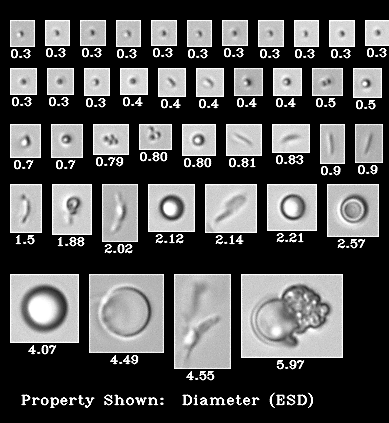 National Institute of Standards and Technology protein standards as imaged by the FlowCam Nano, our flow imaging microscope capable of imaging particles as small as 300 nm.
The FlowCam technology has also been used for numerous particle analysis applications, including printer toner, abrasive dusts, bacteria, and fragrance encapsulations.
Download the Ultimate Guide to Flow Imaging Microscopy to learn more information on FlowCam technology.