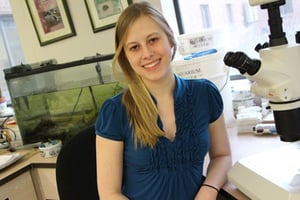 We've awarded our 2015 Aquatic Research Student Equipment and Travel Grant to Keara Stanislawczyk, MSc. Candidate, Great Lakes Institute for Environmental Science (GLIER), University of Windsor, Ontario, Canada under the supervision of Dr. Hugh MacIsaac. Her proposal, Comparison of Multiple Techniques for Identifying Rare Species in Hamilton Harbour, was selected after a series of in-depth reviews by a panel of independent aquatic scientists. Congratulations, Keara!

Judging criteria included scientific merit, appropriate use of the FlowCam® and the ability to obtain measurable results during a research period of four months.

"I am very appreciative that Fluid Imaging Technologies has chosen me to receive this award. Use of the FlowCam is essential to completing my master's degree, and this award will allow me to use the instrument at my University," said Keara. "I hope to understand the FlowCam's ability to find rare species, specifically rare non-native or invasive species, so that preventative action can be taken in order to protect our natural environments."

Keara has received the use of a FlowCam, a dynamic imaging particle analysis (DIPA) instrument from Fluid Imaging Technologies, as well as comprehensive instrument training and on-going technical support throughout the research project. She will also receive a trip to a North American conference specific to aquatics ecology to present her research findings.

Graduate students and senior undergraduates enrolled at a North American college or university who are studying marine or freshwater ecosystems, having a focus on microorganisms are encouraged to apply for the use of a FlowCam to support their research. For information about next year's Aquatic Research Student Equipment and Travel Grant submission dates and guidelines, please contact Joyce Brown.