Please welcome aboard two new team members: David Janse and Scott Harding.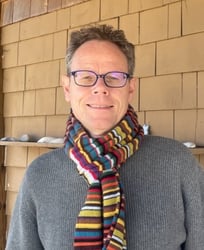 David Janse, our new Director of Finance, has been in management consulting at RGP for the last four years, supporting companies in financial planning and integration management. Prior to RGP he worked at Dolby Laboratories in San Francisco as a Director of Finance and as their Regional Director in Amsterdam managing their European Shared Service Group. David has returned to Maine (after 20+ years out of state) with his wife Judy and daughter Jasmijn (15). They have two older sons who live in Amsterdam and Maui. His hobbies include sourdough bread baking and playing pick-up soccer games.
Scott Harding, joins our team as Software Engineer. He has a background in software development for embedded systems and computer design. After receiving a Bachelor of Science cum laude in Electrical Engineering from the University of Southern Maine, Scott worked in the Research and Development Divisions at Texas Instruments and the Hewlett-Packard Company designing software to streamline development for the design of high-performance microprocessors. Later, Scott worked as a software engineer at Cadence Design Systems in their Digital Design Automation group. Scott has also worked as a consultant in various software capacities related to embedded systems, hardware design, and manufacturing automation. He has a passion for designing energy-saving techniques in embedded systems and electronic devices.
Our team is still growing! We currently have open positions for a Software Engineer and a Technical Customer Support Associate. More positions will also be announced in the coming months.
Consider a career with us, a small company rooted in Maine and now part of a large multinational corporation with regional headquarters around the globe. Join an exceptionally talented team of professionals who bring science and creativity together. Visit our Careers page to learn more.