The 4th Annual European Workshop on Protein Aggregation and Immunogenicity will be held in Salzburg-Wals, Austria on January 28 and 29. This conference serves as a European summit for thought leaders and academic researchers to come together and discuss the issues of protein aggregation and its effects on the immunogenicity of therapeutic protein drug products. We are excited to attend and exhibit the FlowCam imaging particle analyzer with our German distributor, Anasysta.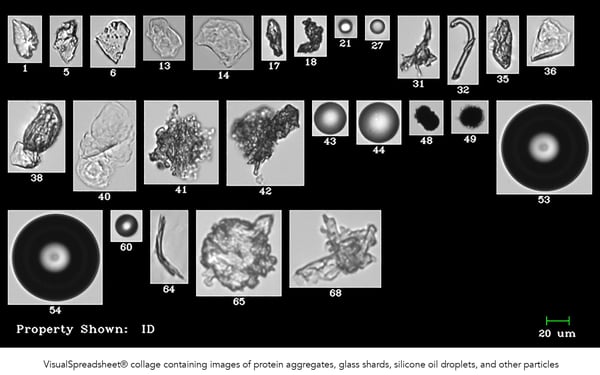 Proteins and contaminants from a parenteral drug sample, imaged and analyzed by the FlowCam.
Be sure to check out out poster "FlowCam Nano provides counts, sizes and images of nano- and microparticles: Application to a therapeutic protein pumping study" during the poster viewing session, and stop at our table top exhibition at the conference to learn more about the FlowCam technology and connect with our team. If you're attending and want to connect before the conference, email info@fluidimaging.com for more information. We hope to see you there!
In the meantime, download the brochure on the FlowCam 8000 Series and the FlowCam Nano to learn about their unique properties that make FlowCam imaging particle analysis technology ideal for protein and particle characterization.