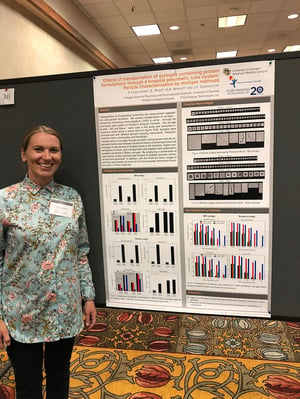 University of Colorado PhD student, Vaida Linkuviene, along with Fluid Imaging Applications Scientist, Heather Anne Wright, and Co-Director of the Center for Pharmaceutical Biotechnology at the University of Colorado, John Carpenter, recently presented a poster at the 2019 Colorado Protein Stability Conference, at which Fluid Imaging has long been a participant. Vaida has been working with the FlowCam to assess the effects mechanical stress on protein formulations in syringes.
Pictured here: Vaida with her poster "Effects of transportation of syringes containing protein formulations through a hospital pneumatic tube system: Particle characterization by multiple methods"
Vaida and her team studied the transportation of these drug product containers through the pneumatic tubing system at Children's Hospital Colorado. Using a combination of the images from the FlowCam Nano, and data from other nano particle analyzers, they were able to characterize protein aggregation, silicone oil droplets, and other particles found in these samples. The FlowCam Nano allowed Vaida and her team to view high-resolution images of the particles in the drug formulations, and expand their data beyond count and concentration. Using this data, they were able to determine that transportation through the hospital's tubing system "caused formation of protein particles and increases in the silicone oil droplets levels in the solutions".

We are eager to continue to follow the research of Vaida and her colleagues at the University of Colorado!
For questions about the study, contact Vaida at vaida.linkuviene@cuanschutz.edu.
Read more about the FlowCam and therapeutic proteins here: Therapeutic Proteins Can Save Lives: Nano-Flow Imaging® Helps Make These Drugs Safer