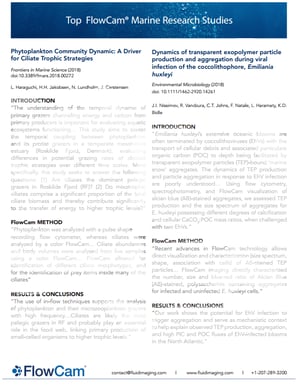 The FlowCam was born from a dream to develop a faster flow cytometer for marine phytoplankton research. In the mid-1990s, the best method for analyzing phytoplankton was using optical microscopy or a slow flow cytometer that could only analyze a limited size range. By 1997, a few scientists from Bigelow Laboratory for Ocean Science had developed the first FlowCam prototype and debuted it at the ASLO Aquatic Sciences Meeting in Santa Fe, New Mexico. Today, 22 years later, the FlowCam has been used in over 230 aquatic science peer-reviewed publications. We've summarized our Top 4 recently published FlowCam for Marine Research Papers into one document. The following papers are featured:
Haraguchi et al., 2018, "Phytoplankton Community Dynamic: A Driver for Ciliate Trophic Strategies", Frontiers in Marine Science.
Nissimov et al., 2018, "

Dynamics of transparent exopolymer particle production and aggregation during viral infection of the coccolithophore,

Emiliania huxleyi", Environmental Microbiology



Camoying and Yñiguez, 2016, " FlowCam optimization: Attaining good quality images for higher taxonomic classifcation resolution of natural phytoplankton samples", Limnol. Oceanogr.: Methods
Kitahashi et al., 2018, "A new method for acquiring images of meiobenthic images using the FlowCam", MethodsX

Click on the button below to download the document.