We broke a paddle. Our inflatable palm tree tipped over. We stole teammates' water bottles. It was an all-out brawl at the 2nd Annual Run of the Royal Corporate Canoe Challenge.
On Saturday, May 13th, eight swashbuckling, river-worthy FIT employees represented Fluid Imaging Technologies as team the "Royal Diatoms" at the 2nd Annual Run of the Royal Corporate Canoe Challenge, on the Royal River in Yarmouth, Maine.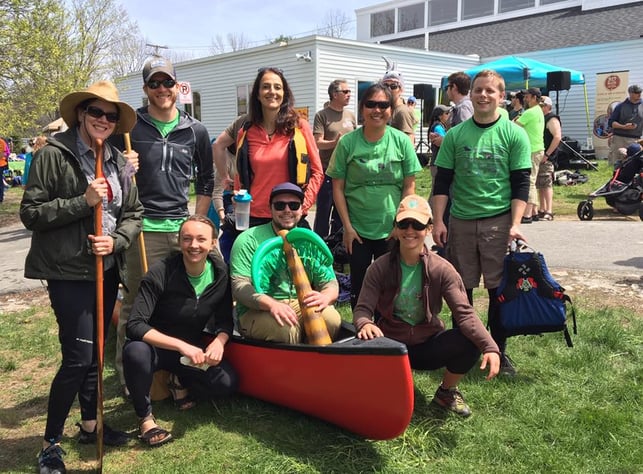 The Run of the Royal is a 4-leg canoe race. Each leg is 2.6 miles total and is designed to be a "team building exercise" :)
Here's a play-by-play of how the race went down:
Leg 1: The Sprinters
The first leg was strong—swiftly paddled by Kay Johnson (Technical Support) and Chris Mills (Manufacturing Engineer), who, little did anyone know, is also a Camp Kieve graduate. Camp Kieve, a summer camp in Nobleboro, Maine, is known to produce skilled canoers. Kay and Chris quickly made their way down river, taking slightly dangerous cuts over shallow logs and successfully bypassed close competition.
Leg 2: The Intrepid Paddlers
Kay and Chris handed off their paddles to Frances Buerkens (Aquatic Sales Manager) and myself, Michelle Devoe (Marketing Coordinator). Frances, taking up the stern, quickly identified my right side was stronger than my left and instructed me on a 3 to 7 paddle alternation. 3 strokes on my left so she could correct our course, and 7 on my right for forward propulsion. With a rock climber and a yoga instructor on board, we had a strong paddle and even passed a boat! (successsss!)
Leg 3: The Skilled Ones
Frances and I handed our paddles to Cybele Brooks (Marketing Director) and her friend Dr. Leigh Baker, who graciously joined our team after our team organizer Harry Nelson (VP Aquatic Sales) realized he would be out of the country on race day. Leigh, an experienced paddler (and Osteopath) took up the stern to steer and offered Cybele plenty of tips (along the way) for engaging the core and utilizing lats and tricepts to optimize power on each stroke.
Leg 4: The Anchor
For the final leg, Colin Mahoney (Software Engineer) and Derek Gobeil (Hardware Engineer) served as our trusty anchor. No pressure though.... While the handoff was a bit tricky on the slippery bank, they managed to keep the canoe upright and set off to keep up a strong pace.
Derek and Colin held strong and we finished in 8th place.
We didn't capsize. Our inflatable palm tree made it back to the office in tact (although a little sandy...) and we maybe enjoyed a few beers from the race's sponser, the Maine Beer Company.
Proceeds from the Run of the Royal benefit the Royal River Conservation Trust. We're looking forward to Run of the Royal 2018!