When you buy a FlowCam, you gain access to a team of technical experts dedicated to supporting and improving your FlowCam and VisualSpreadsheet experiences. Residing in the Fluid Imaging Technology headquarters in Maine, USA, our Support team works directly with our Engineering departments to stay up-to-date on the most pertinent FlowCam and VisualSpreadsheet updates and improvements. In turn, they provide you with the most accurate, beneficial, and efficient customer service. Ask our Technical Support team about:
Meet the experts
Heather Anne Wright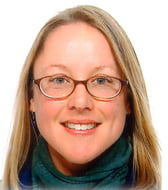 "I'm Heather Anne, Applications Support Manager here at Fluid Imaging Technologies. My role is to develop and support FlowCam customers on their unique application. I joined Fluid Imaging after learning about the FlowCam as an REU in 1998 at Bigelow Laboratory. My broad training covers Biological Sciences (BS and MS in Biology) and statistical analysis (MPhil. Life & Biomedical Sciences). I've used FlowCam instruments and software in my own research, and after years of training a wide range of customers, I understand the unique challenges of field and laboratory science. I'm here to help develop and write SOPs through paid method development services, and support FlowCam customers with software and training support."
Kay Johnson
"Hi, I'm Kay Johnson, Technical Support Manager. If you need assistance with technical information about how our FlowCams are manufactured and qualified for sizing and counting please don't hesitate to contact me. In addition, I can assist you with questions relating to how to properly setup, use, and care for your FlowCam and flow cells, so that you obtain high quality data. My background in Microbiology, especially microbial ecology, allows for a comprehensive view of how FlowCams can fit into your research and development initiatives."
Nicole Gill
"
Hi, I'm Nicole Gill, and I oversee the laboratory at Fluid Imaging Technologies. I have analyzed hundreds of different sample types for biopharma, aquatic, and industrial clients. I love testing new materials, and helping customers understand how the FlowCam can be used to accomplish their research goals. If you're wondering if the FlowCam will work for your specific application, send us a sample! We can analyze it, send you images and data, and review the results over the Internet."
Stephen Barton
"
Hello, my name is Stephen. I provide in depth support to our customers all over the world in person, through email, and via phone. I also perform a variety of testing work to optimize our instrument for a variety of applications and help troubleshoot issues for new instruments we are working on."
Katie Clegg
"Hi there, I'm Katie Clegg, Director of Customer Care and Aftermarket Sales for Fluid Imaging. I am your "go to" if you need technical assistance with your FlowCam, arranging upgraded to your FlowCam (hardware or software), scheduling training or maintenance as well as ordering more supplies for your instrument. My objective is to ensure that all of our FlowCam customers have what they need to operate their FlowCam and obtain quality data. If you need anything to run your FlowCam more efficiently or effectively, please let me know!"
Dominic Benfatta
"Hi, I'm Dominic Benfatta. I'm a Customer Care Associate at Fluid Imaging Technologies. I perform on-site maintenance and quality control around the US and the globe. At our headquarters, I take customer care-related phone calls while performing quality checks and experiments that investigate the capacities of our instruments for new applications."
Get in touch
To speak with a Technical Support team member, call Fluid Imaging Technologies at +1-207-289-3200, Monday through Friday, 8:30 am - 4:30 pm EST. You can also submit an inquiry 24/7 by submitting this form, or send an email customercare@fluidimaging.com. Please allow for 24 business hours for a response. Occasionally, due to the team's workload and travel schedule, it may take up to 48 business hours for a response.
Our team of experts are here to help you overcome your particle analysis challenges and meet your research goals. Please contact us if you need support in the utilization and optimization of your FlowCam and VisualSpreadsheet.