Our own Dave Libby, Senior Software Engineer and Software Team Lead at Fluid Imaging Technologies, will be sharing his story on how he landed in science as part of Maine BioScience Day 2017.
What is Maine BioScience Day?
Maine BioScience Day is an annual event run by the BioScience Association of Maine to dispel the misconception that Maine is failing to produce "the jobs of tomorrow." Participating companies in 2016 included Sappi, IDEXX, Bigelow Laboratory for Ocean Sciences, Baker, Leiner Optics, Alere, Artel, and others.
Presentations will be delivered by employees from the participating companies and range from the mission of each company to the presenter's unique story of how they landed in science. All presentations have one goal -- to get kids excited about SCIENCE!
Dave will be showing the 7th grade classroom at Thornton Academy the technology inside of the FlowCam, how images are collected, and how VisualSpreadsheet works. (UPDATE: Read Thornton Academy's recap of the day over on their blog.)
Dave's opinion on the belief that "the jobs of tomorrow" are not being offered in Maine?
"I think that's completely bunk. There are so many laboratory and laboratory services being offered in and around [Maine]. IDEXX is just around the corner. And then there are all the companies supporting IDEXX. Also, Jackson Labs, which is located just up the road, is doing boatloads of phenomenal research." Dave's entire career has been Maine-based.
Dave Libby, Software Engineer at Fluid Imaging Technologies
Dave's story
Dave Libby didn't have plans to pursue computer science, or college, until his 9th grade math teacher put him in front of a computer. Reading and writing were difficult for Dave and he was classified as a Special Needs student for most of his schooling. But his 9th grade math teacher, Mr. Debias, saw something in Dave and suggested he spend time in the computer lab and investigate computer science. Dave quickly jumped into the world of coding and programming, a language that came easily to him, and decided he wanted to pursue computer science in college. Despite disbelief from those around him, he turned his grades around and got on the college preparatory track.
Dave went straight to work after graduating high school and didn't attend college until 12 years later. Following graduation, he worked as a programmer, hardware technician and network technician for Computer Source, a local software and hardware firm for 8 years. It was here Dave "got to see the beginning of the internet" and "watch the computer industry grow from unaffordable low-powered machines to a machine in almost every home."
From there, Dave worked for DeLorme (bought by Garmin in 2016) for 16 years where he primarily worked as a programmer. It was here Dave "always took risks, and most of the time it paid off."
Dave now is a Senior Software Engineer at Fluid Imaging Technologies. Dave leads the software team in developing VisualSpreadsheet, the analytical software used on the FlowCam.
Dave says "you need to be willing to change and see change as an opportunity. I have taken many chances in my work career and have regretted very few, even in the face of failure I have learned a bunch. My hobby became my job, and now I have time to have new hobbies, such as go kart building and racing with his friends and family."
UPDATE: Read Thornton Academy's recap of the day on their blog.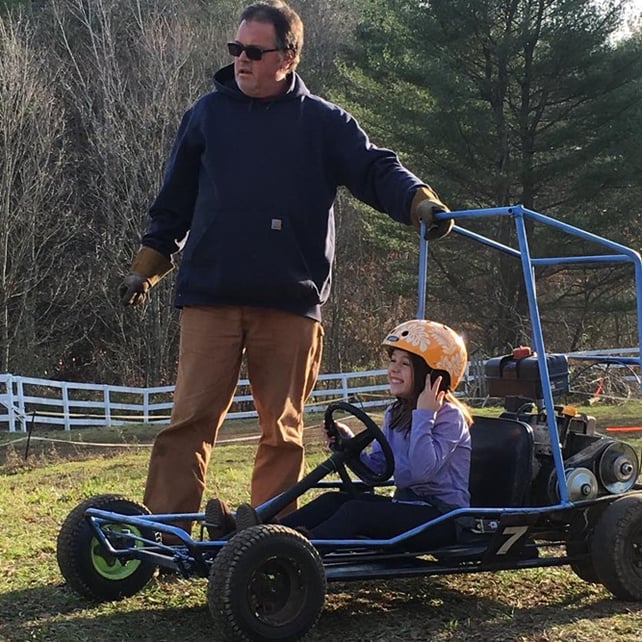 Dave and his daughter before the start of her race.