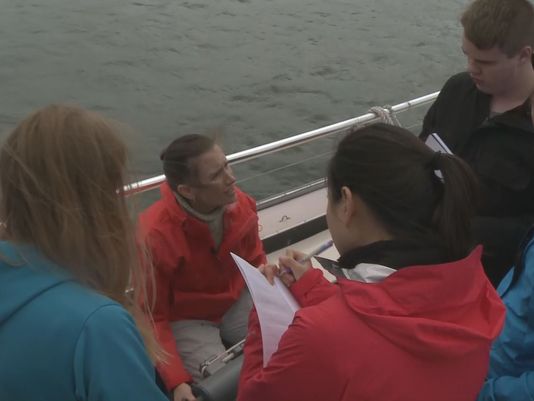 Last week marked the 25th year of Bigelow Laboratory's Keller BLOOM Program. The program was created to provide Maine high school juniors with a hands-on ocean science research experience and this year the cruise was featured on Bill Green's Maine, a local television program dedicated to Maine's outdoors and recreation.
With the BLOOM program, students interested in science get the opportunity work alongside professional researchers, exploring the biological, chemical and geological characteristics of the local marine environment. They learn sampling, data collection and algae identification methods and put these into practice using standard oceanographic equipment on a research cruise.
Twenty five years ago when the program began, samples had to be taken back to the lab. These students are able to get instantaneaous analysis through the FlowCAM, a dynamic imaging particle analysis system from Fluid Imaging Technologies. They ran samples they collected from the Damariscotta River through the instrument to identify and characterize local algal species.
At the end of the week, the students present their findings to parents, elected officials and members of the media.
(Photo Courtesy NEWS CENTER)
---
Learn more about the FlowCAM in this short video.