Developed at the Bigelow Laboratory for Oceanographic Sciences in Boothbay Harbor, Maine, the FlowCam® technology was one of the first to combine the capabilities of a flow cytometer with a digital imaging microscope to make plankton identification quicker and easier. Today, the FlowCam is an accepted aquatics research tool in the laboratory and students from coast to coast are learning how it can help them in their studies.

On the East Coast

Coastal Studies for Girls is a semester-long science and leadership school for tenth grade girls in Freeport, Maine. Recently the students were introduced to the phytoplankton in their own backyard. Following a cold net tow at the Freeport town dock, students calculated the abundance of phytoplankton in their samples using traditional microscopy techniques.

Harry Nelson of Fluid Imaging Technologies stopped by to give the class a demo of the FlowCam, a dynamic imaging particle analysis instrument. The FlowCam captured and collected data and images of living cells in local river estuary samples.

Here are some FlowCam images of species captured in the samples including several diatoms.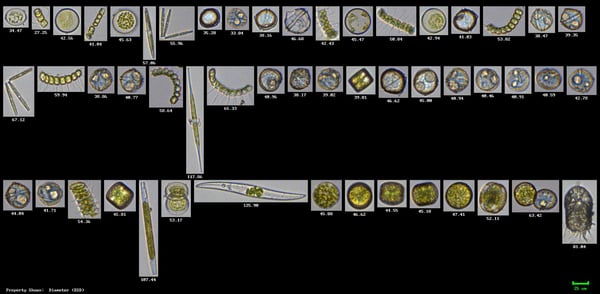 On the West Coast

The Center for Coastal Margin Observation and Prediction (CMOP) is an environmental education program located in Portland, Oregon. CMOP students, from high school to graduate, learn shoulder-to-shoulder with researchers and practitioners, how to characterize, predict and inter-relate processes driving acidification and plankton blooms located at the heads of coastal plain estuaries near the freshwater/saltwater interface.

Students also gain hands-on experience within laboratories using state-of-the-art equipment, including the FlowCam for capturing images and data to measure the size and shape of microscopic particles, and the Environmental Sample Processor (ESP) for in situ collection and analysis of water samples from the subsurface ocean.

Learn about all the great stuff happening at CMOP in this original article, Coastal Margin Science and Education in the Era of Collaboratories.
---
Dynamic imaging particle analysis (DIPA) is a powerful tool for detecting, identifying, and quantifying subvisible particles for a variety of applications. Read The Ultimate Guide to Dynamic Imaging Particle Analysis to learn more.