We're excited to be launching two new products at Pittcon 2015 this week, FlowCam® Biologics and FlowCam® Macro.
FlowCam Biologics
Using the proven industry-leading image quality found in the FlowCam VS-Series, FlowCam Biologics is a dynamic imaging particle analysis (DIPA) system completely optimized for the analysis of sub-visible particulates in protein therapeutics.
Initial uses of DIPA technology in protein therapeutics were concentrated toward particle counting (concentration), based on historical demands of USP <788> using light obscuration (LO). DIPA offered more accurate concentration readings due to its ability to detect transparent particles that LO could not. Along with our customers, we have discovered much of the nuances of using DIPA to characterize biologics over the years, and all of this knowledge has been incorporated into the FlowCam Biologics package. For instance, it has been found that the grayscale threshold used to isolate particles from the background can cause the instrument to miss particles entirely or "fractionate" large particles into many smaller ones for counting1,2. This can lead to major errors in concentration reporting, as shown in Figure 1.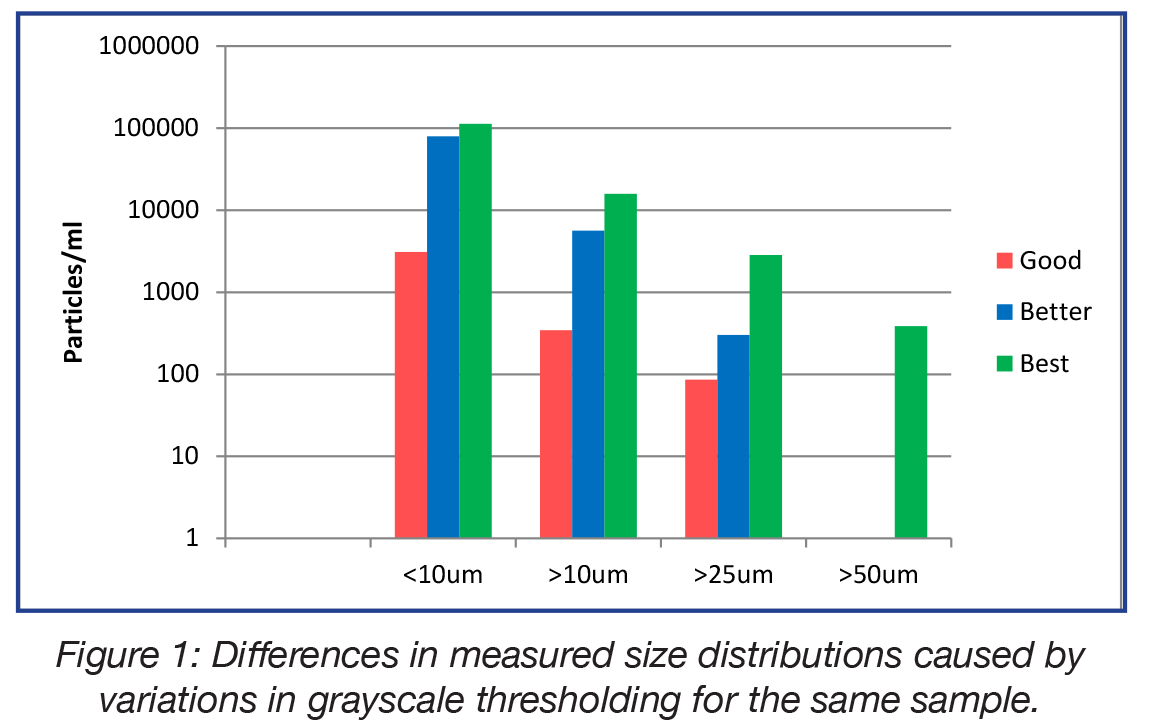 A good deal of the concentration error is introduced merely by not having high quality images and low sensitivity thresholding. Additionally, fractionation of large particles is very evident in the larger size bins of Figure 1, as demonstrated visually in Figure 2.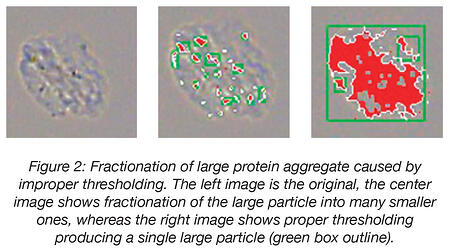 FlowCam Biologics has optimized settings built-in for properly thresholding based on years of experience, so you can rest assured that we have already done all the research for you, and will give you the optimum setup from the start. Including;
Industry-leading image quality: better images yield better measurements.

Higher Sensitivity: Prevents under-counting of transparent particles and fractionation of larger protein aggregates.

Complete: Includes pre-built filters for USP <788> reporting and silicone droplet isolation, 21CFR software, installation/training (including IQ/OQ), disposable pipette-tip sample introduction and all system settings optimized for biologics.

Allows automated, trainable, statistically-based pattern recognition - saves time by isolating different types of particles (intrinsic, extrinsic and inherent) into categories and sub-populations.
FlowCam Macro
Our other new instrument, FlowCam Macro, optimized for larger particles (50μm to 5mm), provides rapid particle characterization that goes beyond just particle size. This instrument includes all the features you've come to know and appreciate about FlowCam. It measures particle size and shape - over 30 morphological measurements on each particle imaged. It provides superior image quality and image-based measurements - fast and accurate results you can see, backed by the quantitative data to prove it. And as always, it allows you to look at tens of thousands of particles per minute.
FlowCam Macro applications include, food & beverage characterization, sphericity measurement of manufactured beads, fiber characterization, polymers, crystals, and powders and other chemicals particle analysis.
These new instruments were developed based on customer feedback and each new model makes the FlowCam instrument better suited to specific industry applications.
---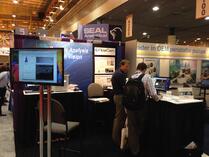 For more information on FlowCam Biologics or FlowCam Macro, visit us at Pittcon Conference & Expo, March 8-12 in New Orleans, LA, Booth #4021.