Receiving Samples in our Particle Analysis Lab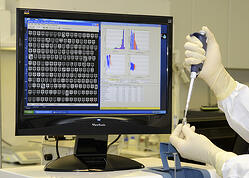 Our particle imaging laboratory is equipped with the latest FlowCAM® instruments and software to offer you state-of-the-art particle analysis services. We're able to process samples on-site, and our lab receives new samples every day. As soon as your sample arrives, a technician logs that it has been received and it's entered into our database. After a sample has been logged, it undergoes its first test — a physical inspection of the container to make sure it's in good condition and hasn't been damaged during transit.
Next, a technician reviews the information you've included about your sample. Every detail that you share with us helps to determine how we will run your sample though the FlowCAM. Information like estimated particle size and shape, your current method of analysis, as well as recommended sample preparation all help ensure that you receive the most accurate analysis of your sample.
Preparing a Sample for Analysis
We provide imaging particle analysis on samples from a wide variety of industries in our particle analysis laboratory. In the last few months we've analyzed algae, frac proppant beads, beer, silica powder, polymer gels, road dust, and aluminum oxide. Regardless of the material though we always have a clear analysis objective — to show you the size, shape, and count of the particles in your sample.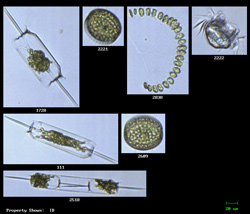 After reviewing the description of the sample that you've provided, our technician will begin figuring out which diluent fluid is most appropriate to process your sample. Our technician might choose water as the diluent, or perhaps mineral oil if your sample is food-based. Or, if the particles are heavy and need to be suspended, glycerol may be the best choice.

Then if we need to reduce the surface tension of the diluent, the proper surfactant is chosen. After mixing with the proper technique, your sample is ready for processing.
The FlowCAM instrument is designed to analyze a wide range of particles types, shapes and sizes, so there are a variety of magnifications and flow cells to choose from. Based on the approximate size of particles within the sample and the goals of the analysis, our lab technician will choose the best combination. For instance:

A 4x objective with a 300 µm flow cell is typically used for phytoplankton

A 10x objective with an 80 µm FOV (field of view) flow cell is best for protein aggregates

A 20x objective with a 50 µm flow cell is best for micronized diamonds (super-abrasives)
Finally settings for your sample are input into the software, and the FlowCAM is ready to go. Once the sample is run, the data is displayed instantly!
Your Particle Analysis Results - Seeing Your Data in a Whole New Way!
Once the sample is run and the data is processed, your results are compiled for your review. The best part is that your FlowCAM particle analysis service also includes particle imaging services! You receive all the images captured of your sample. Here's an example of fiber images from a past analysis.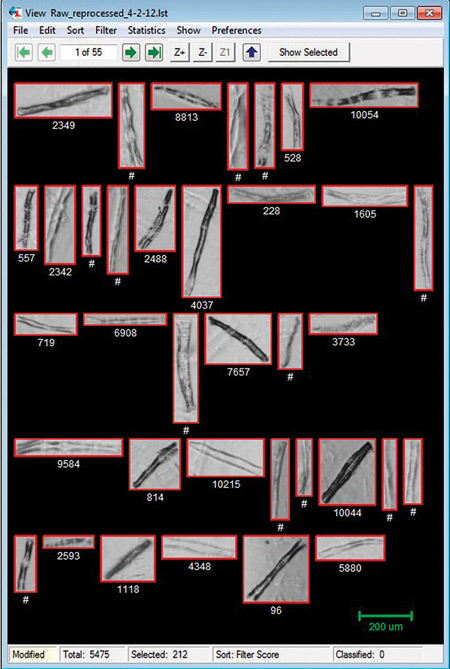 You also receive summary statistics on a variety of particle parameters. Typical particle measurements include:
Aspect Ratio

Circularity

Circularity (Hu)

Convex Perimeter

Compactness

Diameter (ESD)

Edge Gradient

Elongation

Geodesic Aspect Ratio

Geodesic Length

Geodesic Thickness

Length

Perimeter

Roughness

Transparency

Volume (ABD)

Volume (ESD)

Width
Summary statistics are automatically calculated by VisualSpreadsheet® software, including mean, minimum, maximum, standard deviation and the coefficient of variation.
Your data can also be filtered by any of the measured parameters and sorted into group libraries. The count and volume of each library is then instantly calculated. Here's an example of a typical sample analysis based on particle size:
| | | | | | |
| --- | --- | --- | --- | --- | --- |
| Filter | Count | Count % | Volume % | P/mL | PPM |
| 2 - 10 um | 3370 | 81.2% | 7.99% | 13,194 | 1.25 |
| 10 - 20 um | 648 | 15.61% | 23.88% | 2537 | 3.73 |
| 20 - 40 um | 113 | 2.72% | 24.64% | 442 | 3.84 |
| 40 - 60 um | 13 | 0.31% | 17.21% | 51 | 2.68 |
| 60 - 80 um | 5 | 0.12% | 18.62% | 20 | 2.9 |
| 80 - 100 um | 1 | 0.02% | 7.65% | 3.92 | 1.19 |
| 100+ um | 0 | 0% | 0% | 0 | 0 |
Finally, interactive scattergrams and/or histograms are automatically created in VisualSpreadsheet to visually display your results. Here's an example of an analysis where the straightness of fibers was calculated.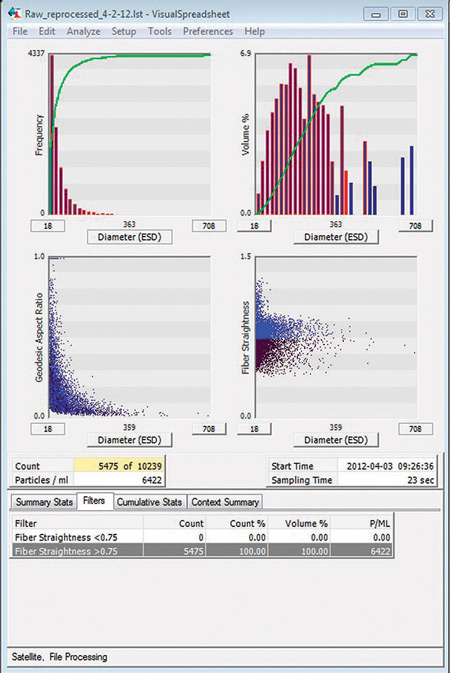 Particle Analysis Services
If your organization doesn't have a high analysis volume, you may want to explore our particle analysis service offering. Our highly-skilled lab technicians can do everything from a basic analysis to a complex method-development and customized analysis work.
Click here for details about our Particle Analysis Service >>
---
Free Particle Analysis Offer
If you're ready to experience the FlowCAM difference, we invite you to take advantage of our free sample analysis offer. Our particle analysis lab technicians will analyze your sample as described above and present your results - free of charge!