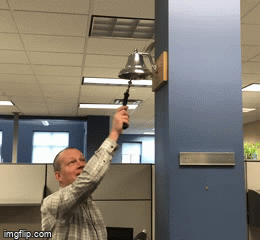 Earlier this month Yokogawa Fluid Imaging Technologies sold its 1,000th FlowCam instrument. "I am so proud of what our company has achieved since being founded in 1999", commented Kent Peterson, company CEO. "We started our company in a garage in East Boothbay, and today we can proudly say there are over 1,000 FlowCam instruments being used in over 60 countries".
Pictured here: Ilmars Labrencis, Yokogawa Fluid Imaging Director of Operations (the one responsible for getting all of those FlowCams out the door to our customers), rings the bell for the sale of the 1000th FlowCam!
Invented at Bigelow Laboratory for Ocean Sciences in East Boothbay in 1999, the FlowCam was originally developed to speed up manual microscopy and automate the often-tedious process of plankton enumeration and classification. In the 21+ years since, the FlowCam has helped customers in a variety of fields to view and identify subvisible particles and organisms faster and more easily than previously possible.
Today the FlowCam continues to be the instrument of choice for oceanographic research, Harmful Algal Bloom (HAB) monitoring, micro-algae cultivation, drinking water quality and safety, medical research, drug development, vaccine formulation and testing, as well as numerous other applications.
"Scientists, researchers, and manufacturers are better informed and can make better decisions thanks to the digital images available from the FlowCam. Flow Imaging Microscopy contributes and supports our understanding of nature and science in so many ways." says Harry Nelson, VP Sales
Companies like 10xGenomics, Moderna, and Pfizer are using the FlowCam regularly for formulation development of vaccines, injectable drugs like insulin, and more. According to Yokogawa customer DKSH Japan, The FlowCam is "a great instrument for biopharmaceutical development".
The Corning School of Ocean Studies at Maine Maritime Academy in Castine was the recent recipient of the FlowCam Student Equipment Grant award. Drs Kerry Whittaker, LeAnn Whitney, and Steven Baer created two lesson plans involving the FlowCam. Their course guides students through scientific research practices and introduces concepts of data analysis and interpretation.
The FlowCam has been instrumental in product development, testing and quality control. Researchers at Iowa State University recently received a FlowCam grant and experienced firsthand "how useful it is in providing insights that were not available using traditional microbiological or microscopic techniques." – Byron Brehm-Stecher, Iowa State University
FlowCam grants are a great way to provide exposure to this important analytical instrument. There is currently a Drinking Water Grant Program, open for applications until the end of February 2021.
Our mission at Yokogawa Fluid Imaging Technologies is to bring clarity and focus to the study of subvisible particles and organisms, and by doing so, to improve health and safety worldwide. For over 20 years the FlowCam has helped customers speed up the process of manual microscopy, by providing an objective digital record of every particle/organism imaged. Additionally, the FlowCam allows for the creation of image libraries to automate the identification and classification of those organisms/particles. This mission continues with the planned introduction of two new instruments in 2021.