Characterization of subvisible particles in protein therapeutics has become an increasingly important means to ensure the development of safe, stable, and effective medicines. Many analytical techniques are available to identify and prevent not only protein aggregation, but to fulfill regulatory requirements. The purpose of this study by Danny Chou, President and Founder of Compassion BioSolution, LLC is to compare different techniques and their ability to identify subvisible particles and what relationship exists between the number of particles and different stress conditions imposed upon the protein drug products.
Flow Imaging Microscopy has been widely implemented for the analysis of particles ranging in size from 1-10µm. Yet, in recent years the FDA has highlighted the need for better analytical tools to fully understand how different stress conditions can impact the stability of the formulation. While light obscuration and membrane microscopy have been the primary methods to conduct USP testing for particles between 10µm - 25µm, regulators are now moving towards expecting orthogonal analytical methods to characterize and provide quantitative data on particles in the 2µm - 10µm range as well.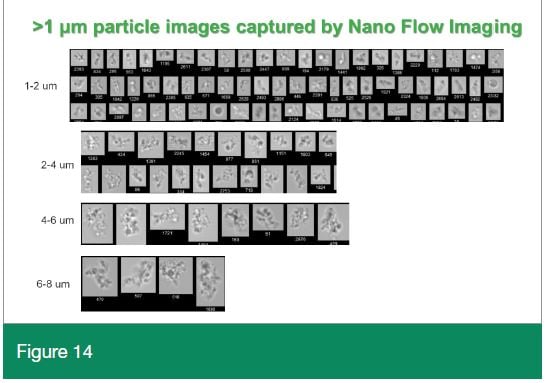 FlowCam Nano offers the ability to image and analyze particles ranging from 30µm down to as small as 300 nm.
Current regulatory guidance suggests that the greatest unmet need is for analytical methods that can provide robust quantitative data on particles in the 0.2 - 2µm size range. Therefore the characterization of submicron particles, and the role they play in the formation of larger sized particles is going to become increasingly important.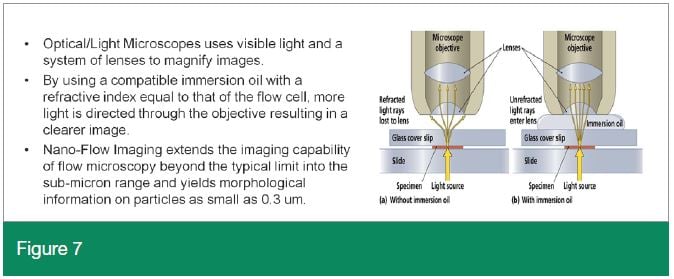 Nano-Flow Imaging available with the FlowCam Nano provides high resolution images of particles smaller than 1µm.
This study reviews 4 different analytical technologies for subvisible particle analysis:
Multispectral Advanced Nanoparticle Tracking Analysis (MANTA)
Nano-Flow Imaging/Oil Immersion flow microscopy (NFI)
Total Holographic Characterization (THC)
Single Particle Optical Sizing (SPOS)
The analysis demonstrates that thermal stress created conditions resulting in a reduction in overall particle concentration. However, the quantitative and qualitative data from this study show that this was caused by a redistribution of the smallest particles consolidating into larger particles over the course of the study. The results from this study emphasize the need to monitor both sub-micron and micron-sized particles, ideally with an instrument that can analyze particles in both size ranges.
Read the study by Danny Chou published in Biopharma Asia July/August edition here.
Danny Chou is a patient-centered biopharmaceutical industry veteran with expertise in biopharmaceutical characterization, pre-formulation, formulation, and fill-finish operations.