We use our Flow Imaging Microscopy blog as a platform to serve up the latest in relevant news, highlight novel uses of the FlowCam, and announce FlowCam technology developments. This year we blogged about 54 different topics. Below is a recap of the Top 10 Most Read Blog Posts of 2018.
10. Local FlowCam Services in 20+ Countries — Fluid Imaging Technologies has partnered with technical experts in 20+ countries to train and support international FlowCammers locally.
9. $30 Million in New Grant Funding Awarded to Study Harmful Algae Blooms (HABs) — The National Science Foundation and the National Institute of Environmental Health Sciences awarded $30 million in grants to support HAB research to understand and prevent future blooms that threaten marine ecosystems, human health, and regional tourism.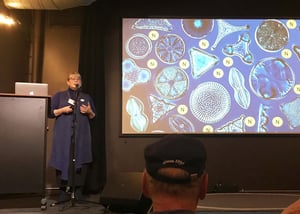 8. Climate Change and the Gulf of Maine as Discussed by President of Bigelow Lab — Dr. Deborah Bronk presented three major effects of climate change on the Gulf of Maine at the close of Election Day in November 2018.
7. Sub-Visible Dangers of Plastic; Nanoparticles in Biopharmaceutical Devices — As preferred administrative technologies switch from glass and steel to plastic, there is a corresponding motive to raise awareness about micro- and nanoparticles shedding from these single-use technologies.
6. Combined Light Obscuration + Flow Imaging Particle Analyzer to be Released 2019 — In 2019, Fluid Imaging Technologies will release the FlowCam+LO, a patent-pending flow imaging particle analyzer that simultaneously conducts light obscuration analysis.
5. Printer Toner to Cosmetics: 2018 Particle Analysis Service Report — Prospects and customers alike can send us samples for analysis in our lab. This is a compelling proof-of-concept service we offer to demonstrate FlowCam capabilities. Here is a list of some of the unique particles we analyzed in 2018 for clients through our Particle Analysis Services.
4. New Flow Imaging Nanoparticle Analyzer Provides Early Warning System of Colloidal Activity for Formulation Scientists — The FlowCam Nano is the first imaging flow microscope that automatically detects, images and characterizes both micron- and submicron-sized particles in a fluid sample.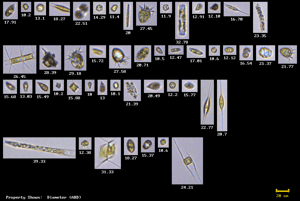 3. World Oceans Day: Prevent Plastic Pollution & Save Our Plankton — In honor of World Oceans Day 2018, a feature on plastic in the ocean as well as images of plankton communities from the World's five oceans.
2. Microplastics in Our Oceans: How Can We Study These Microscopic Pollutants — Research by Bigelow Lab, Marine and Environmental Research Institute, and Alfred Wegener Institute present FlowCam methodologies for studying microplastics.
1. FlowCam Nano Wins Excellence Award at Pittcon 2018 — Fluid Imaging Technologies received the Silver Pittcon 2018 Excellence Award for the FlowCam Nano and its Nano-Flow Imaging™ capability.