This year, in lieu of their annual conference and exhibition, Powder & Bulk Solids hosted a virtual conference: The Powder Show: Digital Flow.
Steve Bowen, Yokogawa Fluid Imaging Technologies Director of Sales, presented a short webinar at this event, titled "Measuring Sphericity & Aggregates of Powders Dispersed in Fluids". The talk is still available to view, alongside other presentations, on The Powder Show website.
Flow Imaging Microscopy (FIM) provides in-depth characterization of particles in powders dispersed in fluids, whether aqueous or oil based. In this presentation, attendees can learn about the technology behind FIM and understand the advantages it offers over volumetric techniques such as laser diffraction or dynamic light scattering. The discussion involves advantages and limitations of various methods and provides metrics on how to evaluate different particle characterization methods based on specific needs and goals. Application examples from the food industry involving corn starch and whey permeate samples are be presented and discussed.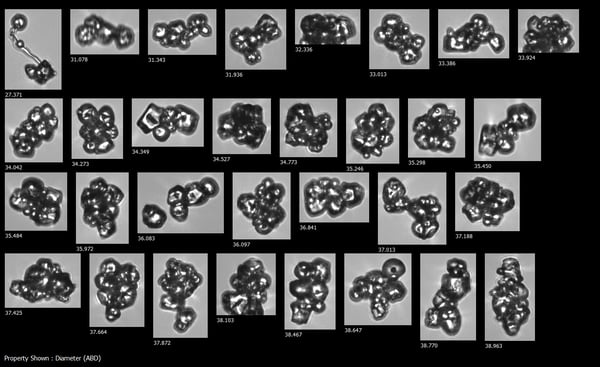 Pictured above: Corn starch aggregates in ethanol
About Powder & Bulk Solids:
"For more than four decades, members of the powder and bulk solids processing community have been gathering in Rosemont, IL — just outside of Chicago — to share ideas, innovations, and products.
The biennial International Powder & Bulk Solids Conference & Exhibition — commonly known as The Powder Show — welcomes 3,000+ industry professionals and 425+ suppliers at North America's largest powder and bulk solids technology event." https://powderandbulkshow.com/