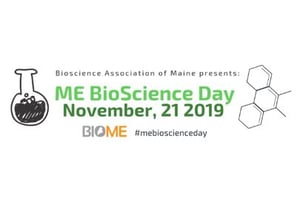 Thursday, November 21st marks Maine's annual statewide event that aims to get middle school students excited about science. This event provides 6th, 7th, and 8th graders exposure to professionals in science-related fields, with the goal of introducing them to a variety of careers available in the sciences.
These volunteers visit local middle school classrooms to talk with students about their own careers in science, their daily tasks, and the opportunities that may be available to them.
Above: Applications Scientist Heather Anne Wright speaks to a group of 7th and 8th graders.
The staff at Fluid Imaging was excited to participate when invited by the BioScience Association of Maine to speak at the local middle school in Scarborough.
Two members of our technical support team, Heather Anne Wright and Stephen Barton, along with USM intern Gina Angela and myself had a blast chatting with over 250 middle school kids. We demonstrated the new FlowCam 5000 and spoke about many of the FlowCam particle analysis applications, from aquatic research and HAB monitoring, to vaccine manufacturing and food & beverage applications to drilling for oil & gas and cosmetic formulation research & development.
Above: Technical Customer Support Associate Stephen Barton, and Marketing Manager Cybele Brooks demonstrate the FlowCam 5000 to a group of 6th graders.
Above: Heather Anne Wright speaks with a large group of 6th graders
BioScience Association of Maine (BioME) started this initiative in 2016 to promote science as a subject in schools and create student awareness for a potential career path in a science field. In 2018, they reached 2,000 students through ME Bioscience Day 2018. Help them to keep it going. Join the movement to inspire a future scientist!