New research using machine learning technology may help doctors identify pathogens in blood samples in a fraction of the time of current methods, leading to faster deployments of life-saving treatments in patients suffering from sepsis, especially newborns.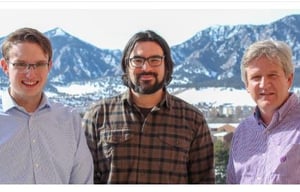 While researching injectable therapeutic preparations, Gillespie Professor Theodore Randolph, Assistant Professor Adjunct Christopher Calderon, and graduate student Austin Daniels developed a machine learning-based technique for identifying and classifying types of particles found in their formulations. They soon realized that they could use this same analysis method to detect and identify invasive bacteria within blood samples.
This machine learning-based technique is similar to facial recognition technology, but it works at the microscopic level. Using a FlowCam Nano microscopy instrument provided by research sponsors Fluid Imaging Technologies Inc., blood samples are sent through micro-fluidic channels under a microscope and photographs are taken of objects that are larger than one micron in size. This results in over a million photos taken of a relatively small blood sample. These images are then reviewed by the system, which can identify specific microbial organisms in a fraction of the time of traditional tests.