Wonder how dynamic imaging particle analysis is contributing to aquatics research around the globe? Here are just a few pieces of information related to current freshwater and marine research projects, conferences, and grant opportunties that you may find interesting.
Tara Oceans Project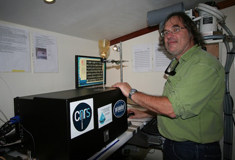 A FlowCAM dynamic imaging particle analysis instrument is currently installed and sailing with the Tara Oceans Project. Tara is a 36 meter long twin-masted sailing vessel on a 3 year, 150,000km voyage to study and document microscopic life in the earth's oceans. Manned by an international team of oceanographers, biologists, ecologists and physicists from prestigious international laboratories, the mission seeks to study the effects of increasing levels of CO2 in the earth's atmosphere on microscopic plankton. Since plankton are responsible for absorbing half of the CO2 produced worldwide and producing oxygen on enormous scales, their fate is critical to the overall planet's health. By putting the scientists and measurement equipment on the boat, Tara will be able to continuously monitor the world's oceans using the same observation and collection methods everywhere.
With over 150 instruments now in use by scientists and water quality professionals from around the world, the FlowCAM is being used for:
Research

Plankton Classification

Continuous Monitoring

HAB Detection and Algal Bloom Warnings

Studies on Community Structure
Upcoming Aquatic Conferences

We're exhibiting at the upcoming 2014 ASLO Joint Aquatic Sciences Meeting (JASM) the week of May 18 in Portland, Oregon. Stop by booth #E46 and say hello to Harry Nelson. Harry will be giving a talk on improved methodologies for semi-automated plankton identification and biovolume estimation on May 23. If you are planning to attend the confernece, add session 112 to your agenda.

Brandon Rieff will be giving a similar talk at the International Association for Great Lakes Research (IAGLR) conference in Hamilton, Ontario the week of May 26. Stop by our exhibition table and say hi to Brandon and learn more about dynamic imaging particle analysis.
2014 Student Equipment & Travel Grant Winner Announced
Congratulations to Deanna Ferguson, the recipient of our 2014 Student Equipment & Travel Grant! Deanna is a Master's student at the Great Lakes Institute for Environmental Research (GLIER) at the University of Windsor in Ontario.

Deanna put together a very thorough proposal. Her proposed study, Early Detection of Aquatic Invasive Species (AIS) using imaging flow cytometry (FlowCAM®)", will help to determine if the FlowCAM is efficient in screening invasive species in ballast water, a major transport vector of AIS (aquatic invasive species) from across Cananda, against a created reference library. She plans to begin her project in September.
Our 2013 Student Equipment & Travel Grant winner was Kim Tucker Ph.D. student, School of the Environment, Florida A&M University. See what Kim did with her FlowCAM!
More Grant Opportunties
While were on the subject of grants here are a couple of other student related opportunitues that you may want to take advantage of, or consider passing along to a friend.
Submissions are currently being accepted for our Life Sciences & Materials Research Grant! Graduate students and senior undergraduates enrolled at a North American college or university who are studying biotechnology, biochemistry, material science/engineering or related fields with an interest in micro-particle analysis are encouraged to apply. You have until May 30 to submit your materials. Contact Barry Godowsky for details.
We will announce the call for submissions for the 2014 Algae Technology Research Scholarship on our website in September. Please check back for details or contact Victoria Kurtz. The 2013 winner was Louis R. Brown, Texas A&M University at Galveston, Texas A&M AgriLife Research. He was awarded the scholarship for his proposal, "Elucidating the impacts of seasonal variation and contaminant suppressants in algal cultures using FlowCAM". We look forward to seeing the results of his work!
---
See the FlowCAM in Action!
This quick video reviews how the FlowCAM works and acquires particle data!