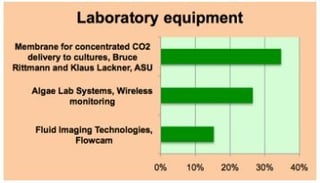 The 2017 Readers' poll winners were recently announced for Algae Industry Magazine. In the category of laboratory equipment, FlowCam 8000 was awarded Bronze.
Gold Award: Carbon Dioxide Recycling @ Arizona State University
The Gold award went to researchers at Arizona State University, Fulton Schools of Engineering, who are exploring a way to create carbon-neutral fuels. ASU's Air Capture Technology collects carbon dioxide from the atmosphere using a technique that scrubs it from the air and then captures it so it can be reused at an affordable cost - essentially a carbon dioxide recycling program. Read more about it here: http://ceassessment.org/wp-content/uploads/2017/03/Stechel.pdf
Silver Award: Water Quality Monitoring for Algae Farms
The Silver award went to Algae Lab Systems for their AlgaeConnect wireless water quality monitoring and control system.
Bronze Award: FlowCam 8000 for Algae Research
FlowCam 8000 series helps aquatic researchers monitor and study algae populations to evaluate the health of lakes and other freshwater environments. Specific freshwater research applications include:
HAB Monitoring

Invasive Species Monitoring

Nuisance Algae Detection

Algae Characterization

Population Dynamics

Environmental Monitoring