---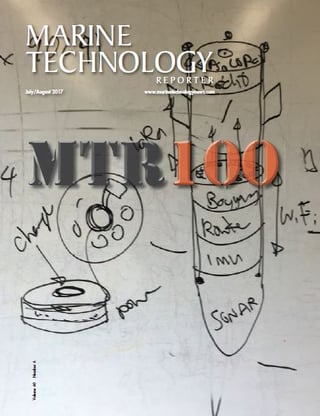 Marine Technology Reporter published its 12th annual listing of leading 100 subsea companies in the July/August 2017 issue. Fluid Imaging Technologies was listed among the Top Technology Disruptors.
Kira Coley, journalist and contributing writer, describes the FlowCam: "What I love about this product is its combined ability of data gathering, plus detailed analysis of that data."
"One of the most exciting things about the FlowCam, beyond its technological abilities, is the range of groundbreaking research this technology has been central to over the last few years", writes Kira.
Beyond detecting and tracking harmful algae blooms (HABs), the FlowCam is being used to study the impact of climate change on marine life. NASA is using the FlowCam to ground truth satellite imagery data and identify the composition of open ocean phytoplankton communitites.
Marine Technology Reporter magazine is the world's largest audited circulation publication serving the global Marine Technology Market. From offshore energy to subsea defense to science and technology, MTR covers it all. Each issue is packed with the latest cutting edge technology from the industry's leading companies, as well as exclusive insights and market analysis that are critical in today's subsea industry.