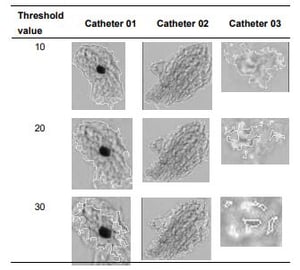 Cardiovascular implants, such as drug coated balloons or drug eluting stents used to treat coronary artery disease are subject to rigorous testing for safety. The assessment of particles released from such devices is essential in the approval of these types of coated medical devices because particles released into the blood stream can increase the risk of emboli. In this study the FlowCam was used to count and analyze particles collected during simulated tests, and these results were compared to light obscuration particle counting.
Pictured at right, FlowCam images with different threshold values.
Light obscuration has long been the standard test method for particle count and size distribution with regard to USP 788. This study concludes that the light obscuration method provided lower particle counts in suspensions containing a high amount of transparent particles. Flow Imaging (referenced as Dynamic Image Analysis or DIA) showed a significant number of particles that were overlooked by the light obscuration method, and is suggested as a valuable additional tool for particle analysis.
DIA with the FlowCam is well suited to taking images of transparent particles in suspension. This is because the FlowCam's paired software, VisualSpreadsheet, has specific settings to measure the difference between the gray scale of pixels belonging to a particle and the pixels rated as background pixels. This is referred to as the threshold value. The determination of the total number of particles in the test suspension is strongly dependent on the threshold value set by the user. In general, and in this study, the lower the detection threshold is set, the better the software is able to detect highly-transparent particles. Therefore, the samples run with the lowest threshold values had the highest particle counts.
For a detailed discussion of how the FlowCam's VisualSpreadsheet software calculates and adjusts for transparent and translucent particles with variable threshold values, please click here to read the whitepaper: The Benefits of Light and Dark Pixel Thresholding.
Download the full text version of this paper: Dynamic Image Analysis of Transparent Particles Released During Simulated Use Test of Cardiovascular Devices.
A. Kurzhals, C. Brandt-Wunderlich, N. Grabow, KP. Schmitz, W. Schmidt - Rostock Germany.