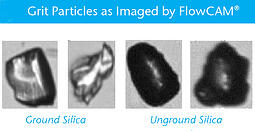 Advanced Grit Management, an article by Marcia Sherony of Hydro International's Wastewater Division in June's issue of WaterWorld magazine talks about the harmful effects of grit and the importance of particle analysis in wastewater treatment plants. We like this article for a couple of reasons.
First, it's an important topic if your job (or in this case, our customer's job) is to detect, characterize, and quantify grit particulate at a wastewater treatment plant. Particle size is an important criteria, but characteristics like shape and specific gravity can also affect grit particle settling velocity.
If grit doesn't settle properly it can cause abrasive damage to mechanical equipment, membranes and filters. It can also cause plant downtime if flows are slow and tanks aren't filling at optimum volumes. Not to mention the burden on budgets and staff.
The second reason we like Marcia's article is because it features images that show the differences in shape when the same size grit and clean sand are viewed through a FlowCam dynamic imaging particle analysis system. You can see the images on Hydro International's website.
Incorporating grit characterization analysis into your wastewater treatment plant design is critical for optimal grit removal. If settling is slower than predicted, more particles will be left in suspension to cause problems downstream. Information from the FlowCam can be used to correlate the flow of treatment systems in near real-time and can be used as an early warning system and help prevent critical upsets.
In addition to grit characterization, other FlowCam wastewater treatment applications include:
Floc characterization

Identification and enumeration of microscopic organisms

Activated sludge morphology characterization
Click on the link below to download our free Wastewater Treatment Brochure and learn how the FlowCam can be used to image and analyze grit particles in your wastewater treatment plant.