In March, Heather Wright – a member of our technical support team – conducted FlowCam training at the University of Maine, Orono (UMO) for a team of researchers including Dr. Jasmine Saros and Dr. Andrei Kurbatov. Both Kurbatov and Saros work at the Sawyer Environmental Chemistry Center and conduct research to identify climatic change.
When preparing for trainings, our technical team always discusses the end-user application objectives. We also emphasize the importance of having your field or experimental samples on hand during the training. On this recent training at UMO, we worked with samples ranging from 50 year old pollen grains, preserved phytoplankton and microzooplankton, and tephra particles from volcanic ash that was trapped inside ice cores.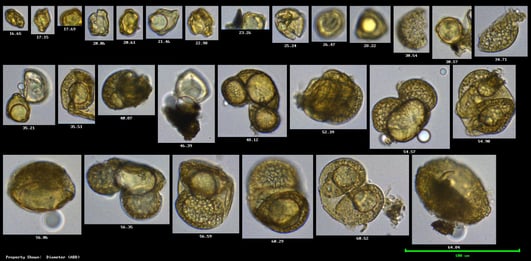 FlowCam images of 50-year-old pollen grains
Professor Saros chose the FlowCam because she works with phytoplankton and the instrument has demonstrated capabilities for rapidly imaging and quantifying them. In her role as the director of the water center, Saros chose the FlowCam because students and researchers will be able to use it for a variety of applications. Dr. Kurbatov sees that one potential application of imaging particle analysis for ice core research is rapid evaluation of meltwater ice core samples for tephra presence.
It is an exciting and challenging time to be a climate scientist. Our technical team continues to learn about the expanding possibilities of using the FlowCam instrumentation for global analysis. Thank you to the entire research team at the University of Maine for their enthusiasm and samples.