"What is the fate of all that organic matter produced by diatoms? Does it get consumed by large (e.g. copepods) or small (e.g. ciliates) zooplankton?" This is the question that put Dr. Jeffrey Krause from the Dauphin Island Sea Lab and University of Alabama and Dr. Michael Lomas from the Bigelow Laboratory for Ocean Sciences onboard the R/V Sikuliaq ASGARD (Arctic Shelf Growth Advection Respiration Deposition rate) research cruise.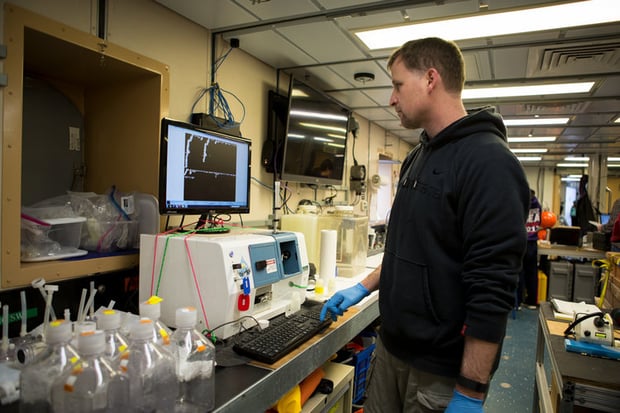 Dr. Jeff Krause uses the FlowCam to analyze microzooplankton from the Arctic Sea. Dr. Lomas' flow cytometer complements Krause's analyses and analyzes phytoplankton. PC: Brendan Smith
The ASGARD survey is part of the Arctic Integrated Ecosystem Research Program (IERP) of the North Pacific Research Board's (NPRB) Arctic Program. Approximately $16 million will be invested to study marine processes in northern Bering and Chukchi seas from 2017-20121. The overarching research question of this investigation is "How will reductions in Arctic sea ice and the associated changes in the physical environment influence the flow of energy through the ecosystem in the Chukchi Sea?"
Dr. Krause and Dr. Lomas are researching how much daily phytoplankton growth is consumed by microzooplankton across the Chukchi Sea. Dr. Krause brought his FlowCam aboard to image and analyze microzooplankton. His analyses are complemented by Dr. Lomas' flow cytometer which is used to analyze phytoplankton.
Read the full post and follow the cruise blog here.
Other scientific personnel aboard the research vessel are from the following University of Alaska Fairbanks (includes the Chief Scientist Dr. Seth Danielson), North Pacific Research Board, National Oceanic & Atmospheric Administration, University of Hokkaido (Japan), Oregon State University, Bureau of Ocean Energy Management, US Fish and Wildlife Service, University of Washington, and an observer from the Native Village of Diomede (a small island in the Bering Strait).
Krause and Lomas' project is funded by the National Science Foundation and North Pacific Research Board.