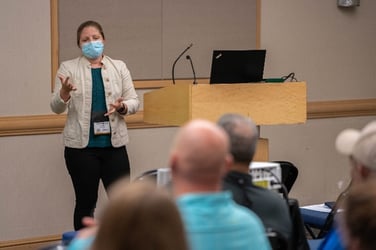 In August, our FlowCam team attended our first in-person drinking water conference since the onset of the pandemic: the Kentucky/Tennessee Water Professionals Conference in Chattanooga, Tennessee. We met drinking water and wastewater professionals from around the region, ranging from small utilities to state agencies.
Pictured right: Savannah Judge presenting on the water quality monitoring program developed by the City of Wichita Falls in Texas
Savannah presented on behalf of our FlowCam customer, Hunter Adams (Environmental Laboratory Supervisor) and the team at the City of Wichita Falls Cypress Environmental Lab to share how the FlowCam can be incorporated into an integrated water quality monitoring program to prevent cyanobacteria and other algae capable of producing toxins and/or T&O compounds like MIB and geosmin.
Check out a Journal AWWA cover story to learn more about how FlowCam is being used by the City of Wichita Falls.
For those of you in the area who were not able to attend, check out the technical program to identify any presentations of interest. PDFs of all the PowerPoints from the technical sessions can be found here in the WPC archive.
It was our first visit to Chattanooga, and we had to explore the famous Chattanooga Choo Choo! See that old train there? For those of you haven't been to Chattanooga before, it's actually a hotel where the train cars have been converted into guest rooms. Special thanks to Dr. Francesca Leasi for showing us her city!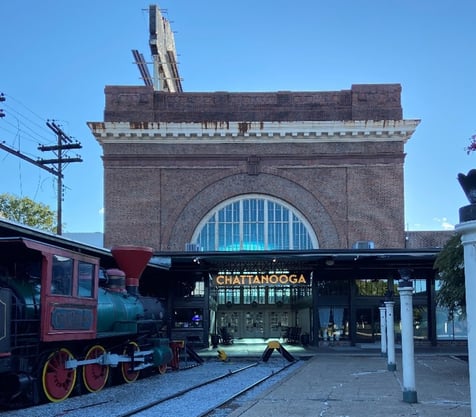 Until next time, Chattanooga!