In 2016, 23 million salmon died from a harmful algal bloom (HAB) at a farm in Chile. The economic cost of that die-off is estimated to have been $800 million. The impact of such mortality events is serious. Grieg Seafood is employing cutting-edge technology to expand monitoring, stay ahead of HABs, and keep their fish stocks healthy.
Historically, Grieg has used manual microscopy to identify and count algae to determine if there was a need to employ mitigation strategies. On any given day, there could be upwards of 100 species of algae, and using a manual microscope can be like trying to find a needle in a haystack. The quality of data is not consistent with this manual process that is also prone to error.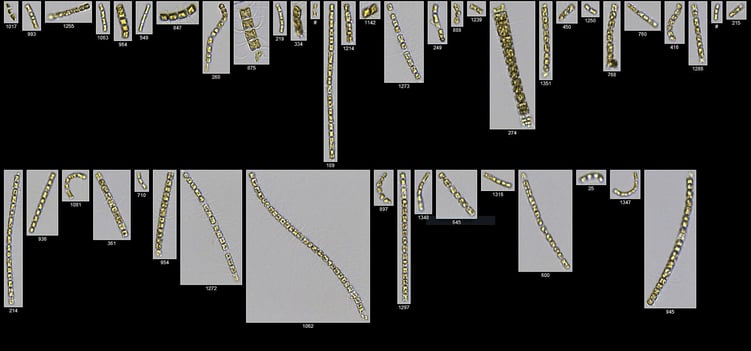 Chaetoceros cells as imaged by the FlowCam

Read the case study about how Grieg Seafood is using the FlowCam in their daily monitoring program to track trends in algal populations and help with forecasting of harmful algal blooms. The FlowCam has been instrumental in helping Grieg reduce fish mortality by proactively monitoring their fish pens and the water quality.
If you're attending the Aquaculture 2019 in New Orleans, be sure to attend Harry Nelson's presentation of the paper "Use of Imaging Flow Cytometry (FlowCam) to Monitor and Characterize HABs and Other Micro Organisms in Aquaculture". Saturday March 9th at 2:15, please check the schedule.
Learn more about how the FlowCam imaging flow cytometer is used for HAB monitoring, phytoplankton and zooplankton research, and other aquatic applications.