The California Water Quality Monitoring Collaboration Network hosts monthly webinars, and the topic for June's presentation was "Application of Imaging Particle Analysis in California Environmental Monitoring" presented by Dr. Peggy Lehman. The presentation explains the benefits of using a FlowCAM dynamic imaging particle analysis system for microscopic algae identification, especially with regard to the use of the instrument to study the problem freshwater cyanobacteria, Microcystis, in the San Francisco Bay Estuary.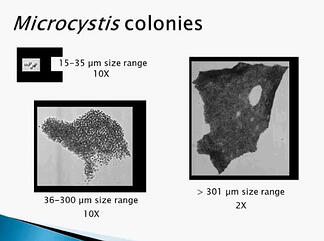 Microcystis first showed up in the San Francisco Estuary in 2000. Its blooms form in thick layers on the water surface, but in preserved samples it tends to ball up making it very difficult to get accurate volume or count estimates. Its size range can be anywhere from 6 µm to 50,000 µm.
Dr. Lehman says that in comparison to the preserved samples, when she runs live samples with the FlowCAM, the microcystis colonies stay flattened out enabling her to get sharp images of the individual cells as well as the large colonies. With this information she's able to get a really close estimate of volume and abundance. She adds that the FlowCAM's VisualSpreadsheet software is an excellent tool for fast and effective cyanobacteria identification.

Watch the full presentation to learn more about the monitoring and frequency studies Dr. Lehman and her colleagues are conducting to determine the decline at the fisheries along the San Francisco Bay Estuary, and how they are using the FlowCAM for identifying cyanobacteria.
Dr. Lehman is an environmental scientist with the Division of Environmental Services, California Department of Water Resources (DWR). She has extensive research experience including phytoplankton ecology, cyanobacteria harmful algal bloom dynamics and food web impacts, freshwater tidal wetland water quality and primary productivity. Dr. Lehman and her colleagues use a FlowCAM to support monitoring and research work on the San Francisco Bay Estuary.
FlowCAM image courtesy CWQMCN