In December 2018, U.S. Congress submitted a letter signed by 61 Congressional Members to the Office of Management and Budget to lobby for increased funding to support harmful algal bloom (HAB) research in 2020.
HAB events are widespread and their effects are diverse. Coordinated studies released in 2017 by the Environmental Protection Agency, U.S. Geological Survey, and National Oceanic and Atmospheric Administration showed that 39% of all lakes nationwide contained toxic algae, and cyanobacteria-produced toxins were present in 78% of those lakes at some point during the year. Additionally, 40% more HAB events were reported in 2018 than in 2017.
The letter details HAB events in recent history and specifies their detrimental effects on tourism, drinking water, human health, food supplies of indigenous peoples, and the aquaculture industry in communities around the nation. The examples include the Microcystis outbreak on Lake Okeechobee and its associated waterways with reported microcystin toxins 50 times higher than the safe-for-human-contact levels, and amnesic shellfish poisoning associated with HABs stretching from California to Alaska, and Rhode Island to Maine that suspended shellfish harvesting.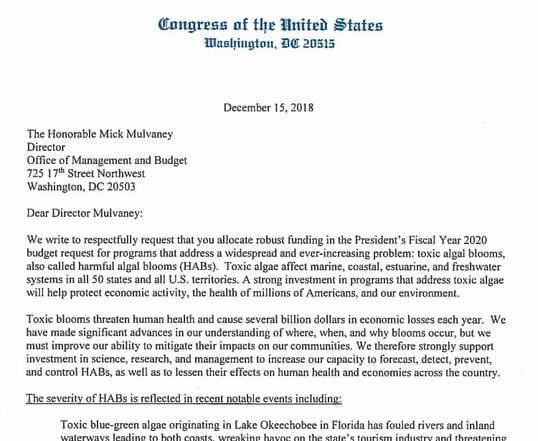 An excerpt of letter submitted by Congress to the Office of Management and Budget in December 2018 lobbying for increased budget allocations in 2020 to support HAB research.
While scientists are gaining confidence in understanding how, when, and why HABs occur, significant advances are needed to mitigate the impacts of HABs on their surrounding communities. Specifically, Congress lobbied that the funding would go towards the most pertinent issues, as follow:
"furthering our understanding of the socioeconomic impacts of HABs on our coastal communities;

developing and improving early warning, forecasting, and detection tools;

enhancing our understanding of how changes in climate may affect HABs as well as new and emerging organisms and toxins of concern;

expanding our understanding of the various drivers of HABs in different regions of the country and the mechanisms underlying those events;

and improving awareness of how HABs interact with other environmental stressors like hypoxia."
Take a look at the letter. Is your state represented in the signees? If not, contact your congress person and educate them on the importance of HAB research and the detrimental effects of HABs in your community.
If you're unfamiliar with how the FlowCam can be used in HAB research, download the Top Studies on Cyanobacteria Reseach to learn how the FlowCam has been used in six influential cyanobacteria studies.