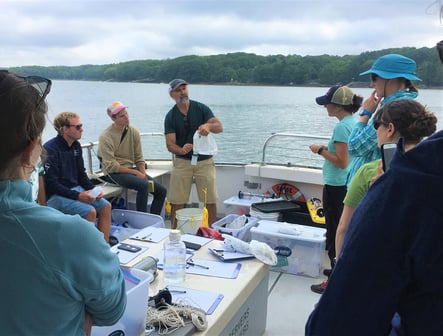 For six days every spring, Bigelow Laboratory for Ocean Sciences hosts 16 high school students (one from each Maine county) in East Boothbay, Maine, as part of the Keller BLOOM educational program. Students get a chance to work alongside research scientists studying marine life in the field and in the laboratory.
In recent years, Bigelow has expanded the BLOOM program to include a second session in August - this time for Middle and High School educators.
For over ten years, Fluid Imaging has been a part of the program, bringing the technology of the FlowCam to the students and teachers studying phytoplankton and zooplankton. This August, Harry Nelson hopped aboard the Snow Goose II to give Maine's educators a glimpse at how the new FlowCam 5000 works, analyzing plankton samples with the new instrument.
The FlowCam is a very useful tool that collects a large number of plankton images, and a large amount of data, in a short period of time. Data provided by the FlowCam gave this year's teachers a lot to work with during their week at Bigelow.
Says Harry, "It's been a pleasure working with Bigelow scientists helping high school students develop an understanding of the microbial ecology of the ocean - particularly watching their eyes light up as they see images of the plankton world on the FlowCam's monitor."
Learn more about the Keller BLOOM program here: https://www.bigelow.org/education/bloom.html
Pictured below: Plankton sample obtained during the BLOOM Educators Program and imaged with the FlowCam 5000. Anyone want to guess what species are pictured here? Add a comment below!