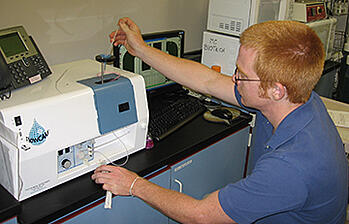 With a real-world approach to learning, students at a Texas community college are on a path to success, and so is their algae research.
The biotechnology program at Lone Star College in The Woodlands, Texas is replacing textbook learning with practical, hands-on activities and involving students in actual scientific research that addresses today's real problems.
The college focuses on graduating students with skills and abilities that appeal to potential employers. The means students get access to the same high-tech instrumentation that professional lab technicians use at the pharmaceutical and biotechnology firms nearby in Houston. This real-world approach to research has attracted a number of advanced students who may otherwise have attended four-year institutions, according to Dr. Danny Kainer, who directs the biotechnology program.
"Students are realizing that most four-year degree programs put the research, the part that really interests them, at the back end," says Kainer. "Our two-year program provides research opportunities from day one so you don't have to wait years and years to do the type of work that's typically part of a Master's program."
As a core part of the hands-on research, Kainer's lab students grow, monitor and harvest upward of 35 different strains or species for algae identification. Each strain exhibits different characteristics that may be ideal for a variety of commercial applications. One project seeks the algal strain that yields high levels of the super-antioxidant astaxanthin, which is being added to functional foods and nutraceuticals and has already topped $1 billion in sales. Another project seeks to identify the algal strains that yield the most long-chain hydrocarbons for use in the production of sustainable biodiesel and other biofuels. The algae research projects require Kainer's students to check their progress daily and harvest the algae at the end of the experiment.
Kainer has secured a number of grants and donations, and set up industry partnerships to supply the research facilities with the latest laboratory instrumentation available. His equipment lineup includes an electron microscope, several types of spectrophotometers, multiple open ponds and photobioreactors (PBRs) for cultivating algae, two biodiesel processors, and an automated cell counter to name a few.
Students become proficient in using all of these instruments for their algae research, but the instrument students use the most is called the FlowCAM, a dynamic imaging particle analysis instrument that combines microscopy and flow cytometry. It detects, counts and measures algal cells in a fluid sample, takes a high-resolution, full-color digital image of each one and saves the images and data for review and analysis. It discerns thousands of algal cells from non-algal particles in the same sample in seconds and can even identify the strain of algae detected.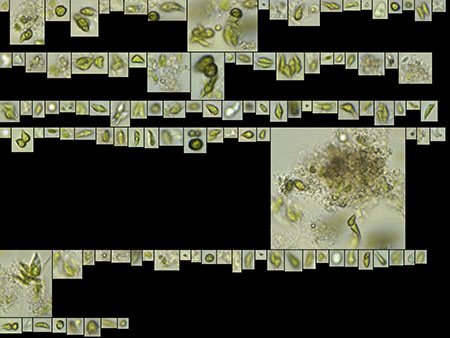 Kainer secured the FlowCAM as part of a scholarship program from the manufacturer, Fluid Imaging Technologies, of Scarborough, Maine. The collaborative scholarship provides up to $1,000 per year for up to four consecutive years to a student studying algae and its potential role in the development of biofuels, bioplastics and other products. Unexpectedly, the FlowCAM spawned several collaborative projects among students and faculty from different departments including geology, engineering, chemistry, physics and non-science areas.
"You don't have to be a scientist to be amazed at the volume of data you're seeing on the screen," says Kainer. "The FlowCAM provides a platform for studying data collection and statistical analysis that can be applied to any number of areas."
The goal of Lone Star College's biotechnology program is to create an operation where the students feel like they're really working so when they approach a company for a job, they bring real experience from both the lab and the workplace. Kainer says this can't happen out of a textbook with pre-planned, right or wrong results and it can't happen online. Students and teachers participate in the discovery process together and learn something new about nature or developing a technology that may solve some of the most challenging problems faced by the world today.
Click here to read the full article from Laboratory Equipment.
---
See the FlowCAM in action