In order to ensure that treated ballast water meets the Ballast Water Performance Standard [IMO D2 Regulations] set by the International Marine Organization's international convention, viable cells within certain size ranges must be detected and counted. Typically ballast water analysis is done using a microscope or other labor-intensive, subjective method.
Unfortunately these techniques are unsuitable for on-board ship or Port State monitoring because they require expert knowledge and are time consuming. Dynamic imaging particle analysis can be an effective tool to overcome these challenges.
Here are a couple of examples of how dynamic imaging analysis can provide an indicative analysis of ballast water, both in measuring concentration of cells and for image-based indicative sampling of cell viability after treatment.
Two concentrated algae samples were run through the FlowCAM. First a culture of the algae Cosmarium, and second, the same sample after being treated with a biocide to kill the algae. Screenshots of the overall results can be seen below.
The first image shows results before treatment of the Cosmarium culture. A concentration of 18,635 particles/mL were measured. The VisualSpreadsheet interactive scattergram feature was used to quickly select only the Cosmarium particles based upon their aspect ratio (width/length) scatterplot (right graph).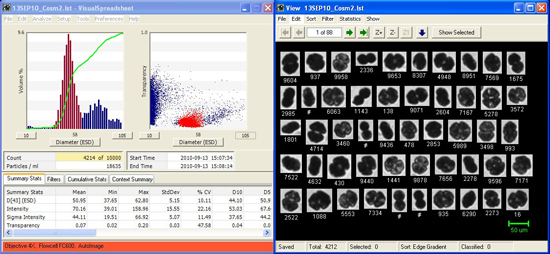 The next image shows the sample after treatment (filtration and biocide). The concentration of the Cosmarium has dropped significantly to 5,944 particles/mL (concentrated sample). This is a primary indication of the efficacy of treatment.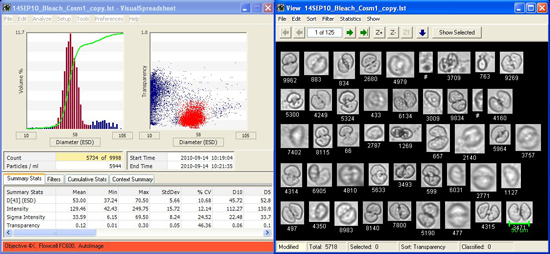 While the concentration numbers provide an excellent indicative sample of the treatment efficacy in terms of just numbers, the FlowCAM also provides far more in-depth information via the stored images and measurements. Look carefully at the differences between the cell images in above images. The cells after treatment are nearly transparent in comparison to the opaque nature of the original cells before treatment.
The FlowCAM also measures gray-scale attributes such as intensity, sigma intensity and transparency. These three measurements are also shown in the two figures and summarized in the table below.

All three gray-scale indicative measurements change dramatically between the untreated and treated samples. Mean intensity rose from 70.16 to 129.46 (higher numbers are brighter) after treatment, due to the fact that the bleach caused the cells to lyse. Sigma intensity, which is a measure of contrast, became lower on the treated sample, which is also confirmed by a corresponding rise in transparency. These results are also indicative of the efficacy of treatment.
As you can see, this method offers a quick method for measuring total organism concentration in ballast water as well as an image-based approach for determining treatment efficacy.
---
Learn more!
Download the FlowCAM Guide to Nuisance Freshwater Algae and Cyanobacteria. This image e-Book contains images of 49 different nuisance algae and cyanobacteria species as imaged by FlowCAM.