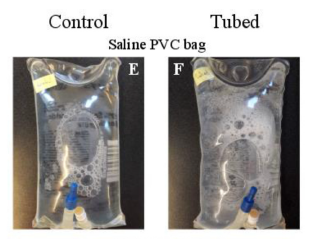 Subvisible particles in biotherapeutics represent critical quality attributes because they pose regulatory and potential product safety risks. Therefore, much of the development work behind these therapeutics focuses on creating formulations and manufacturing processes that minimize the particle content in the drug product and reduce the potential for adverse immunogenicity.
Pictured above are images of IV bags before and after transport via Pneumatic Tube System with Dextrose and Saline.
Despite measures taken during formulation and manufacturing, product quality can still be compromised after manufacturing due to accidental stresses caused by freeze-thawing, exposure to light, and mechanical shock from dropping the drug container. In a recent collaboration between the University of Colorado and Children's Hospital Colorado, researchers investigated particle generation in IV bags containing therapeutic protein formulations in the hospital's pneumatic tube system (PTS). Particle monitoring technologies like FlowCam are critical to ensure biotherapeutics have acceptable particle content not just after manufacturing but up until the therapy is administered to patients.
Read More