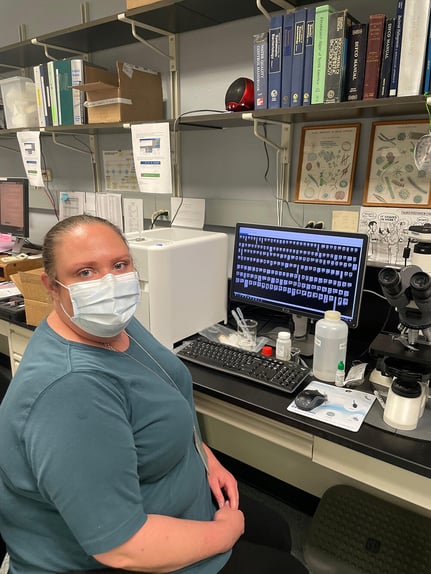 Austin Water, the City of Austin, Texas' water utility, recently purchased a FlowCam Cyano instrument. Austin Water first learned about the advantages of flow imaging microscopy from employee Misty Klein (pictured here).
When Misty moved to the City of Austin, she understood that image analysis with FlowCam would be essential to Austin Water's strategy to prevent harmful algal blooms. She recommended FlowCam Cyano to her colleagues and received funding to purchase an instrument in 2021.
Austin Water understood the value of a high-speed instrument for predicting harmful algal blooms (HABs) and taste and odor issues, and communicated their plan to implement FlowCam to their customers:
"Austin Water is investing in leading-edge technology to shorten the time between sampling and test results to protect public health and safety. We plan to use digital imaging particle analysis to detect harmful algae, as well as same day testing instruments in our own lab. We are working to have these instruments in place by the end of the year. We also meet regularly with our counterparts at the City of Austin's Watershed Protection Department and the Lower Colorado River Authority to review and report on our respective testing and mitigation approaches."
Read more about Austin Water's approach to HABs.
Misty and her team recently completed FlowCam training with Kris Daigle, our Field Service Engineer, and are now up and running with their new FlowCam Cyano!
Misty first learned about FlowCam technology working closely with Hunter Adams, a long-time FlowCam user, at the City of Wichita Fall, Texas.
Hunter has successfully incorporated FlowCam into an integrated water quality monitoring strategy that has eliminated taste & odor issues in his city. He has become a prolific presenter and author of materials about the City of Wichita Falls' water quality monitoring and treatment strategy that utilizes FlowCam for imaging and analysis in addition to other monitoring techniques.