These past few months we have all had to adjust to a new normal. For some that means risking their lives to provide essential services to the public, or doing their best to follow social-distancing rules in the lab or office. For others that means sitting at home with our laptops on our couches and getting our work done in isolation, or with children at our feet. Working from home is a unique challenge for scientists whose work requires more than just a screen and an internet connection.
The following is an excerpt from The Scientist Magazine:
"While some scientists have turned to writing manuscripts and grants and making inventories of their freezers to keep busy while away from the bench, others have brought experiments home, turning bathrooms, laundry rooms, and kitchens into makeshift labs—sometimes seeing an opportunity to explore new questions, other times trying out of desperation to prevent projects from moving backwards.
...Steven Henikoff, who studies epigenetics at the Fred Hutchinson Cancer Research Center, and his team were almost ready to release an updated protocol that allowed researchers to profile chromatin components using antibodies—which can reveal changes to gene expression—in a small sample or cell, using a technique that kept the sample in a single tube throughout the process, but they needed a little bit more data.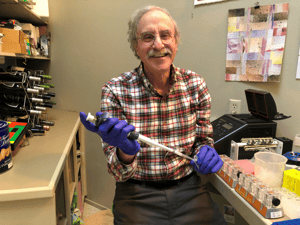 photograph by JORJA HENIKOFF
When COVID-19 prevented Henikoff from continuing experiments in the lab to collect those results, he took a few pieces of equipment home to see if the technique, CUT&Tag, would work just as well outside of a dedicated laboratory—in this case, the laundry room of his home.
'It doesn't require anything dangerous,' says Henikoff. 'I thought, well, I'll just try it out at home and see if I can get the same data, the quality, that I was getting the lab. And it turned out to be quite easy.'
He took a 10-year-old PCR machine and a microcentrifuge home from the lab, both of which fit on the counter he uses to fold clothes. He was able to run even more samples than he normally would in the lab, thanks to limited interruptions throughout the day, and his team posted its Cut&Tag@home protocol to protocols.io on April 17.
'The reason for doing it was, basically, it's a good opportunity to demonstrate what you could do with limited resources,' says Henikoff. 'It's very inexpensive. It lowers the barrier for getting into the game of chromatin profiling."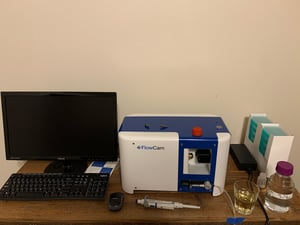 We have heard many similar stories from our customers using the FlowCam at home. Here's the home setup of Asher Smith, an undergrad at Reed College who is taking the lead on learning how to use the FlowCam 5000 for freshwater research from his home in Portland, Oregon. Asher says, "I have processed a few hundred mL so far, and next week I'll be into the community library building stage of things. It's definitely been a learning curve, but it's been really inspiring to see all the images—there's an unbelievable amount of diversity in these ponds we're studying."
Yokogawa Fluid Imaging Technologies employees have also been using the FlowCam at home. While a small number of our staff are still in the office - building and shipping new FlowCams - our sales and customer service teams are running samples, and helping customers analyze their data from the comfort of their home offices.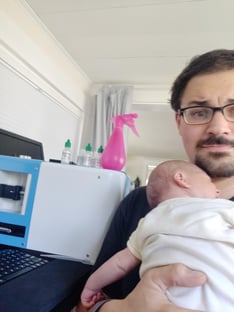 Here's Stephen Barton, Technical Customer Support Associate, and new father of twins, attempting to multitask!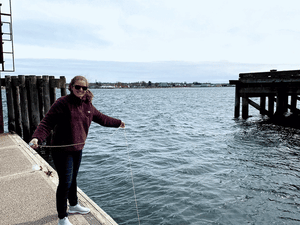 And here's Savannah Judge, a member of our Aquatics team, sampling plankton to bring back to her home lab.
We want to hear about YOUR experience as a scientist working from home. Send us a photo or a story about your at-home FlowCam experience. Our favorite photo will win a newly-released FlowCam dust cover - to keep your FlowCam safe in your lab (or from your kids!). Share your photo or story with us via social media:
Quotes and photograph sourced from: Emma Yasinski, "Amid the COVID-19 Pandemic, Some Scientists Bring the Bench Home", The Scientist, LabX Media Group, May 13, 2020, https://www.the-scientist.com/news-opinion/amid-the-covid-19-pandemic-some-scientists-bring-the-bench-home-67533?fbclid=IwAR38vnSYhScwIpWDtDt2NzcX7LLQRcX3Y_eaabnfyNX7X-5n8n0-M5acbKE