***COVID-19 UPDATE*** This list is actively changing, as many conferences are choosing to postpone or cancel. Please refer to our website to see an up-to-date schedule.
Harry and Savannah (and Frances too) can't hide their excitement about our spring conference schedule! Here's where you can find us between now and June. Don't forget to bring a water sample, and we'll analyze it for you right in our booth.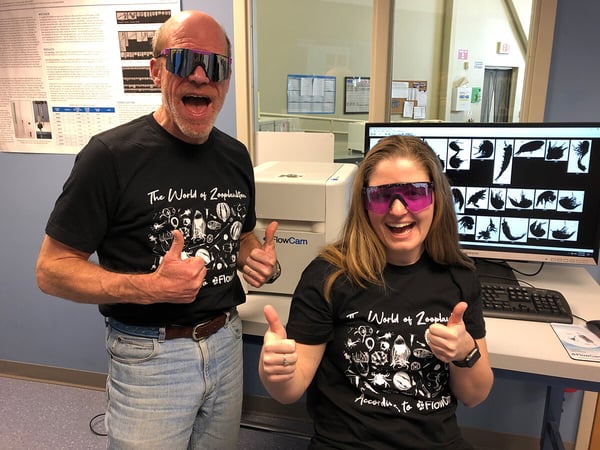 AGU Ocean Sciences Meeting, San Diego, California, February 18-20, 2020
The Ocean Sciences Meeting (OSM) is the flagship conference for the ocean sciences and the larger ocean-connected community. It is co-sponsored by AGU, the Association for the Sciences of Limnology and Oceanography (ASLO), and The Oceanography Society (TOS). Through the combined power of these three organizations, along with the broader conservation-focused community, this meeting provides attendees the opportunity to bridge disciplines, connect communities, and make lasting partnerships.
The first 50 people to visit our booth (#202) will get a free zooplankton t-shirt (like the ones being modeled above by Harry and Savannah).
Maine Sustainability & Water Conference, Augusta, Maine, March 26, 2020
The Maine Sustainability & Water Conference provides an annual forum where professionals, researchers, consultants, citizens, students, regulators, and planners gather to exchange information and present new findings on sustainability and water resource issues in Maine.
National Shellfisheries Association 112th Annual Meeting, Baltimore, Maryland, March 29 - April 2, 2020
The National Shellfisheries Association is an international organization of scientists, management officials and members of industry, all concerned with the biology, ecology, production, economics and management of shellfish resources - clams, oysters, mussels, scallops, snails, shrimp, lobsters, crabs, among many other species of importance.
As one of the meeting's sponsors, we'll be showing the FlowCam, and demonstrating its value as a tool to help maintain healthy shellfish communities.
Texas Water 2020, Forth Worth, Texas, March 31 - April 3, 2020
The largest regional US conference for water utility professionals comes along with Texas-specials like a tour of the Fort Worth stockyards, the Texas Motor Speedway, and the fastest saw cut competition. This is our first year exhibiting at this event, and we're excited to see what the buzz is all about!
4th Interdisciplinary Freshwater Harmful Algal Blooms Workshop (IFHAB), Toronto, Ontario, April 21-23, 2020
The occurrence of harmful algal blooms (HABs) in freshwater environments has steadily increased for decades due to shifting climate and eutrophication caused by anthropogenic activity. The recurrence of these blooms has inspired teams of scientists and regulators across multiple disciplines to systematically work together to achieve a broader understanding of the occurrence, fate, and ultimately, impacts of HABs on ecosystems used for drinking water, irrigation, fishing, and recreational purposes.

IFHAB will draw in leading experts from across North America into a synergistic forum to share their research findings and discuss innovative solutions.
New England Estuarine Research Society Spring 2020 Meeting, Salem, Massachusetts, June 4-6, 2020
NEERS is a non-profit organization with a wide ranging membership from scientific and educational institutions, federal, state, and municipal agencies, and nonprofit organizations. The purpose of the society is to bring together persons actively engaged in estuarine and coastal research and management for informal discussion and exchange of ideas.
NEERS meets in the spring of every year and in the fall of even years. Meetings usually begin with a special symposium to focus upon issues of a topical or regional nature. This is followed by 1-1/2 days of regular sessions.
ASLO-SFS 2020 Joint Summer Meeting, Madison, Wisconsin, June 7-12, 2020
This joint meeting with the Association for the Sciences of Limnology and Oceanography and the Society for Freshwater Science will focus on the increasingly severe threats attributed to global environmental change involving water, including scarcity, security, over-appropriation of water resources, extreme hydrological events, accelerating loss of aquatic biodiversity, and overstressed fisheries. Sessions will look at sustainable solutions—those that work across sectors, nations, and generations—and how they will require major transitions in our thinking about water resources and the way they are governed and managed.
American Water Works Association ACE20, Orlando, Florida, June 14-17, 2020
At this national show for the US water sector, water professionals will gather to review recent successes in addressing water-related challenges, and discover new products and procedures. Despite many challenges in the water sector – such as infrastructure renewal, supply, quality, resiliency, affordability, workforce – providing safe water transcends these challenges. Water professionals are leveraging innovation, advocacy and new programs to address critical issues to protect the world's most important resource.
Join us to learn how to FlowCam can be an important tool for the success of your water utility.