Yokogawa Fluid Imaging Technologies announced this week the release of its newest FlowCam with a fully integrated light obscuration module. By combining industry-standard light obscuration technology required for USP compliance with digital images from proven Flow Imaging Microscopy (FIM) technology, the new FlowCam + LO will soon become the preferred instrument in biopharma labs worldwide.
Measuring and monitoring particulate matter present in injectable drugs is extremely important to companies involved in formulation development, manufacturing, and packaging. Adverse effects caused by protein aggregates and extrinsic particles in these drugs have been well documented over the years. The risks range from reduced efficacy to significant immunogenic responses. Historically, companies have had to rely upon multiple lab instruments to perform analysis of biologics: light obscuration, plus another method like manual microscopy or flow imaging, due to limitations of LO technology. Now there is an option to get FDA-mandated LO results and flow imaging morphology information from a single instrument.
In the FlowCam + LO, a single sample passes continuously through two flow cells. The first uses FlowCam technology to capture digital images of particles ranging from 2μm – 100µm, and the second uses light obscuration to provide data necessary for USP compliance. Those already using flow imaging microscopy will reduce sample volumes and bench time by combining two instruments and two steps into one.
"Users who are new to flow imaging can now obtain images and morphological data that allow them to interpret the light obscuration data and show them what's underneath the curve, including revealing transparent and translucent protein particles that may have been missed by light obscuration instruments" says Kent Peterson, CEO.
• Correlate light obscuration data with flow imaging microscopy.
• Reconcile data from a single sample, and a single run with two different technologies.
• Save time and sample quantities by using a single instrument.
• Obtain full particle characterization and improved sample throughput time in a single step.
Go Beyond Size and Shape
Given that LO compares all particles to a sphere (equivalent spherical diameter or ESD), it's possible that extrinsic particles would have the same ESD as your proteins, and would pass the LO test. The image below shows the variety of particles you might see with a similar ESD (shown here: proteins, agglomerates, silicone droplets, air bubbles and other contaminants - silica, glass shards).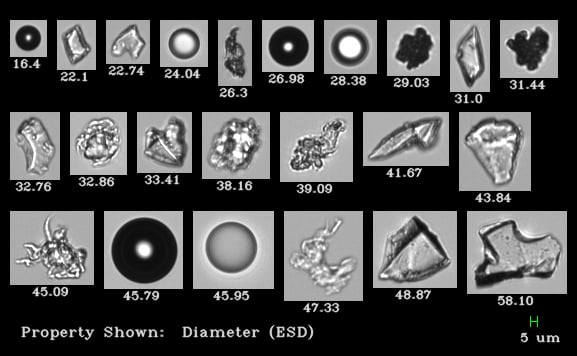 A sample like this might pass USP size limits, but still fail at the trial stage. The FDA recalled Peginesatide/Omontys in 2013 due to severe adverse post marketing events that could have been avoided with visual analysis.
Now, for the first time, you can obtain LO data to meet regulatory guidelines, and also verify your data with real images, all with a single instrument, and one sample run.
Download the FlowCam + LO specifications