Women represent half of the world's population however are still underrepresented in STEM fields. Less than 30% of researchers worldwide are women and only around 30% of all female students select STEM-related fields in higher education. As part of a world-wide effort to promote the full and equal participation of women in the sciences, the United Nations recognizes February 11 as International Women and Girls in Science Day.
In support of this initiative, I asked the women of Fluid Imaging Technologies what their words of wisdom would be to those aspiring to enter a science or technology-related career. Here is what they had to say: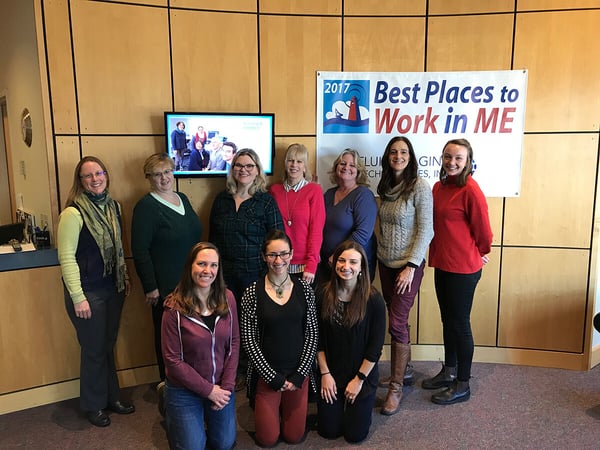 The women of Fluid Imaging Technologies. Clockwise from top left: Heather Anne Wright, Gail Durgin, Katie Clegg, Kandace Wagner, Mary Hayes, Cybele Brooks, Michelle Devoe, Stephanie Terenzoni, Frances Buerkens, Nicole Gill. Not pictured: Kay Johnson, Michelle Richards
Heather Anne Wright, M.S. Biology, M.Phil. Life and Biomedical Sciences, Applications Support Manager: "Advice No. 1: Be persistent. Advice No. 2: Pick the low hanging fruit. Funny enough, both bits of advice came from well-tenured academic and research scientists in the field of oceanography. Both pieces of advice have stood the test of time in my professional career. In my current role, I find the mix of problem solving, research skills and challenge lend well to these two advices. Being a scientist to me, means you need a mixed skillset of writing, listening, and hands-on in order to do the science, write about it, and convey your ideas to others. I've also been quite fortunate to have exceptional women role models. Take the time to thank someone in your life who has shaped your career. They may not realize their influence on your choices."
Frances Buerkens, M.B.A. Operations and Supply Line Management, Sales Representative: "I work with scientists and engineers – and I love what I do! I sell and help design products for ecologists. Science is a field of inquiry. Engineering is a field of design. Both of these fields have one thing in common and that is learning: Learning requires you to ask questions. Learning means that you make mistakes… lots of them. Learning means that you have to put your mind together with others – engineers and scientists in my case – to identify a solution. Learning requires you to be both vulnerable and strong. Vulnerability makes you feel exposed, but there is nothing more exciting than learning! Women are known to be strong communicators and willing to be vulnerable. This is the very characteristic that enable women to thrive in science and engineering."
Kay Johnson, M.S. Biology , M.S. Microbiology, Technical Customer Support Manager : "As a mother and scientist, I encourage both my daughter and son to enjoy science and mathematics, just as I did growing up. It's important to continue to find the curiosity in whatever interests you, and I think fundamentally, microbiology, biology, and science allows for that wonder that kids just naturally possess. Keep that in mind when you (young women in science) are spending countless hours gathering and analyzing data in the pursuit of science or an advanced degree."
Nicole Gill, M.S. Marine Science, Laboratory Supervisor: "Be willing to accept the positive side of change. Career paths in science are rarely linear…funding can lapse, project scope can change, and your personal priorities and goals will likely shift over time. I hold a Master's in marine biology and over the past 15 years, I've done coral reef assessment and monitoring, lead field-based fisheries research, taught high school and college students, and landed in my current position at Fluid Imaging. I've worked for non-profits, state agencies, universities, local school districts, and in industry. This is far from a straightforward career path, but I wouldn't trade these any of these experiences for the world. I have met so many interesting people, acquired lots of unique skills, and have learned SO much! Most importantly: work hard, speak up, be persistent, and always be open to new opportunities. One day you'll land in a position you'll love; I know I have!"
Cybele Brooks, M.B.A., Marketing Manager: "I consider myself a scientist by association. I've always loved science. My dad is a physician and instilled in me the curiosity about biology, chemistry, and the human body. We would collaborate on fun projects and experiments together. Professionally trained in marketing, my passion is problem solving and helping our customers connect with the best solutions available, to make their jobs easier and more fulfilling. When I first started at FIT, I was the only woman at the weekly managers meeting! It's been great to experience the increase in the number of women in management roles (and overall) here, along with the growth of the company."
Michelle Devoe, B.S. Geology, Marketing Coordinator: "There is no one, correct path. You don't need to be a research scientist to be in the STEM world. I have my Bachelors in geology and utilize that education and training every day in my marketing role here at FIT. There are many different careers that involve and utilize science. If you keep your eyes open to all the possibilities and think creatively, you can create a career for yourself that combines all of your passions and interests. Also, you must eradicate any self-doubting voices as soon as you're aware of them. Replace them with 'Yes I can. I just need to put the work in.' Self-doubt only prevents you from taking the risks, leaps, and jumps that will get you to where you dream of being."
What advice do you have for women and girls aspiring to work in STEM fields? Leave a comment below.