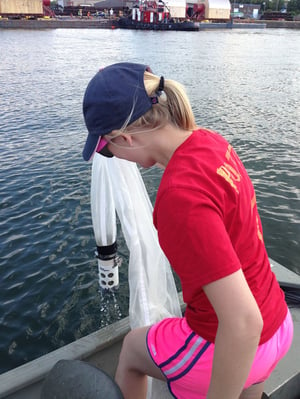 Yokogawa Fluid Imaging Technologies is pleased to announce the return of our Student Equipment Grant Program in 2020. Learn how to apply to win the use of a free FlowCam to conduct your research more quickly and efficiently. Keep reading below to learn about one student's experience participating in the program in 2015.
At the time of her FlowCam award, Keara was a master's student at the Great Lakes Institute for Environmental Research (GLIER) at the University of Windsor (Ontario), where she compared the FlowCam to traditional microscopy for detecting and identifying rare zooplankton.
Keara is pictured at right collecting a plankton sample to be analyzed on the FlowCam. Here's what she had to say in 2015 about the grant program:
"I am very appreciative that Fluid Imaging Technologies has chosen me to receive this award. Use of the FlowCam is essential to completing my master's degree, and this award will allow me to use the instrument at my University. I hope to understand the FlowCam's ability to find rare species, specifically rare non-native or invasive species, so that preventative action can be taken in order to protect our natural environments."
Keara presented her work the 2016 International Association for Great Lakes Research (IAGLR) conference and Hydrobiologia published her paper in 2017. You can read the paper here.
Today, Keara is a water quality technician in the Stone Laboratory at The Ohio State University. "Our research is focused on harmful algal blooms in the western basin of Lake Erie. In fact, we just got a new FlowCam delivered recently, and we are hoping to start integrating it into our research projects soon."