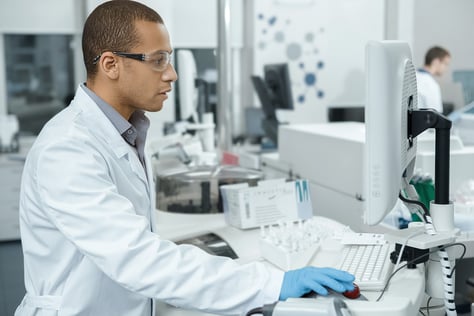 Biopharma labs today are looking for ways to improve accuracy, safety and productivity. The use of robotics to enable the unattended, continuous running of samples is gaining popularity. The following post can help you determine if an automated liquid handling system can help your formulation development lab attain the goals of reproducibility, traceability and flexibility.
Here are 5 things to consider when adding a liquid handling system to improve your lab efficiency:
1. Sample Preparation
Perhaps the single most important element to streamlining lab efficiency is the time required to properly prepare a sample for analysis. Automation of sample dilution, mixing, and shaking/agitation (to prevent settling) presents clear time saving elements. These labor intensive steps can be fully automated by the right liquid handler.
It's important to know your goals for sample analysis, what kind of sample preparation is needed, and of those, which can be automated. For example, certain temperature-sensitive samples or reagents will need to be heated or cooled prior to analysis. As the goal for adding liquid handling is to improve efficiency and eliminate human errors, taking the time up front to understand the sample preparation required will pay off in the long run.
2. Software
A key element of the automation capability of a liquid handler is its software. How well does the software allow you to program your assay and walk away? Does it have the capability to schedule sample runs on your desired schedule? Different labs have different needs, so be sure to investigate if the software's scheduling function can accommodate your specific assay.
Does the software provide full traceability via GMP and 21 CFR requirements? Flexibility and accuracy are key. ALH software must ensure dispensing accuracy, which in turn affects the efficiency of operations, and saves time and sample volume.
3. Configurability
Speaking of flexibility - in order to ensure dispensing accuracies and efficiency of operation, you need a system that is flexible and configurable to meet your specific needs. Elements important to your application may include:
Robotic arm path: can this be altered, based on the nature of the assay?
Deck locations: can these be customized?
Well plates: how many are available?
Component placement: does the system allow for alterations?
Sample containers: Can the sample be drawn from different media?
Cleaning schedule: can this be customized?
Pipette tips: can these be re-used when appropriate?
Your automated liquid handler should be able to be configured to your precise requirements.
4. Ease of Use
Robotics will not be helpful to your lab if they are time consuming to integrate and difficult to learn. The best automated liquid handler for you will conform easily to your current processes. Ensure that training is easily available, and not cumbersome. The best systems require no programming experience or prior use experience. They are designed for lab staff to learn quickly and easily structure the best pipetting routines and protocols.
Another thing to consider is whether the software is integrated and has the ability to communicate with your other lab instrumentation. Is this communication automated, or does it need to be programmed? Is the user experience smooth and seamless? How tightly integrated is the software? Does it feel like this instrumentation is made to work together or patched together through third party applications?
5. Customer Service
Even the best-made instrumentation needs occasional troubleshooting. It is crucial that both your automated liquid handler and particle analysis instrumentation has a support team available for technical troubleshooting quickly - especially when that instrumentation is intended to save time. Your company should feel like your have an experienced team supporting you with world class technical expertise, available both remotely, and on-site.
The benefits of improved operational efficiency and decreased cost of continuous unattended operations makes adding a liquid handling system to your lab a strategic decision. If you are in the market for integrated particle analysis lab automation, make sure to explore the FlowCam 8000 Series with integrated Automated Liquid Handler.